Main thoughts
Artificial Intelligence can help retailers improve their customer experience by providing personalized recommendations and improving inventory management.
It can also help retailers optimize their pricing strategies and reduce costs by automating tasks such as demand forecasting and supply chain management.
Artificial Intelligence can be used to detect fraud and prevent losses in retail.
Artificial Intelligence can help retailers improve their marketing strategies by analyzing customer data and predicting customer behavior.
Introduction
For decades, traditional analytics have worked perfectly fine for the data-driven retail industry. However, Artificial Intelligence (AI) and Machine Learning (ML) have introduced an entirely new level of data processing which leads to deeper business insights. Data scientists could open a new world of possibilities to business owners extracting anomalies and correlations from hundreds of Artificial Intelligence/Machine Learning models.
Between 2013 and 2018, Artificial Intelligence startups raised $1.8 billion in 374 deals, according to CB Insights. Amazon can take credit for these impressive numbers because they made business leaders change their minds about Artificial Intelligence in the retail market – both physical stores and e-commerce strategies to stay ahead of the competition. At the moment over 28% of retailers are already deploying Artificial Intelligence/Machine Learning solutions, which is a sevenfold increase from 2016 when the number was only 4%. Take a look at the popularity of "AI in Retail" in Google Trends:

Many businesses from various industries that need Web development services can vastly benefit from combining them with AI solutions development and should take this into account from the very outset. For example, the present article describes how this happens in the case of Web development for Retail.
Using AI in the Retail Industry: SPD Technology Use Case
Here at SPD Technology, we know how retail businesses could benefit from AI because we have practical experience. We developed a system for product suggestions based on tracking a customer's location and actions in a store. It was aimed to boost sales for shop owners while improving customer experience by providing smart recommendations.
This project started as an idea to improve the CRM in a supermarket. We had a goal to implement a customer identification system that did not require physical id cards and connect it to the existing CRM process. To achieve that we had to analyze videos from cameras, identify customers in frames, and track each customer's position in the store to match it to the location of the products. In addition to, the system also needed the capacity to alert staff when a customer is standing too long in one location so personnel could assist him or her if needed. All this valuable information is gathered to determine the products each customer prefers to create future offers for him or her.
Building this solution started by using the existing security cameras in the store and setting up just a few additional cameras. We had used the YOLO model with pre-trained weights because of its effectiveness in identifying people. The Tracklet Association method comes into play when someone has the goal to track multiple objects. This method processes and slightly improves the information from YOLO, the distinct similarities of the same visitor (this is called appearance embedding), forms tracklets, and groups them with the help of the network flow graph. Simply put, our system is able to interact with multiple customers now. We calculated the geometry of the cameras to determine their scope. Then, by implementing the perspective conversion, our system is now able to receive 2D coordinates on the location of certain customers.
Don't have time to read?
Book a free meeting with our experts to discover how we can help you.
Book a Meeting
After this system was installed in the store, the owners obtained an entirely new level of insights. With all of this information about customer's preferences integrated into the CRM, they can predict demand for a particular product. More than that, business owners can come up with much more effective personal offers and promotional offers with adjusted price strategies for different groups of customers. Eliminating physical gift cards improved the shopping experience and customer satisfaction. Now, personnel can offer personalized discounts or ask about the experience with the last purchase — making the customer feel even more welcome.
That was our experience, but what about global smart retail trends?
How AI is Being Used in Retail Today
So, we are in 2021 and Artificial Intelligence solutions still have plenty of room to grow. However, we can already present to you some examples of real-world AI applications with proven business value. Here is how AI is changing retail.
Top 12 Uses of AI in Retail
1. Stores can become cashier-free
The robotization of stores will result in reducing lines, lowering the number of human employees, and significant savings on operational expenses. Amazon AI has already introduced checkout-free stores. The Amazon Go and Just Walk Out Shopping technology reacts when you take something from the shelf or put it back. When you walk out of the shop with products, the Amazon account will take money for your purchase. Amazon wants to make more shops driven by Artificial Intelligence like Amazon Go, where only six to twenty human staff members are needed.
2. Chatbots to assist with customer service
AI chatbots provide an even higher level of customer service, improve searching, send notifications about new collections, and suggest similar products. If a customer already bought a black hoodie, a chatbot can suggest a snapback to match — and the look is complete. Eighty percent of brands worldwide are already using or going to use AI chatbots in the near future. Tommy Hilfiger and Burberry have launched chatbots to help their customers navigate through their collections.
3. In-store assistance
Retailers also invest in technologies that help customers in the shopping process and also help staff in stores. Kroger Edge technology eliminates paper price tags in their stores; smart shelf tags are now used. This technology also provides video ads, nutritional info, and promotions on the displays. Lowebot, an autonomous in-store robot from Lowe's, helps customers find what they need in the store in different languages. At the same time, it helps with inventory management thanks to real-time monitoring capabilities.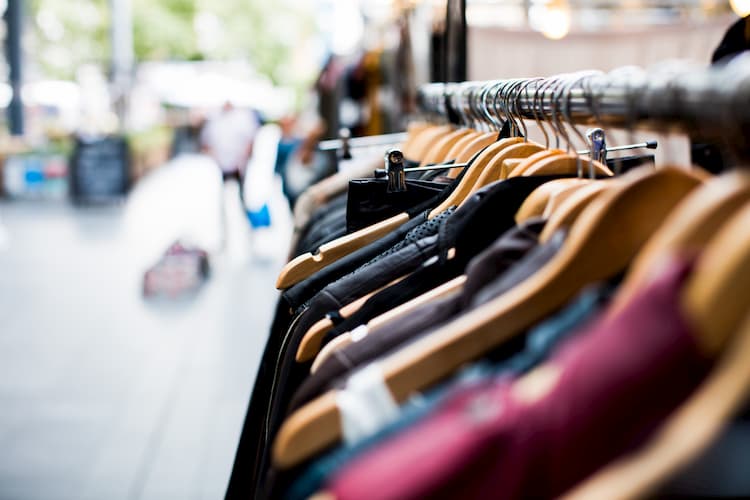 4. Price adjustments
Applications of AI for retail stores could help businesses set prices for their products, visualizing the likely outcomes of multiple pricing strategies. To be able to execute this, systems collect information about other products, promotional activities, sales figures, and additional data. Business leaders can present the best offers and get new customers and boost sales as a result. eBay and Kroger already apply Artificial Intelligence for their price optimization and stay flexible with their ability to adjust prices and promotions according to the information obtained.
5. Price predictions
Price forecasting is a prediction of the price of a product based on demand, seasonal trends, characteristics, the release date of new models of the same item, etc. Its obvious implementation lies in the travel industry; however, it could be used in retail as well. Just imagine an app or service that helps your customers know beforehand how the price for a certain product will change. With Artificial Intelligence, this is possible and it is very easy to implement. A Price prediction feature could help you build customer loyalty. Predictive Analytics and Machine Learning in the Retail Industry, however, could achieve much more than just a price prediction.
6. Supply chain management and logistics
Poor execution in this area leads to losses for retailers around the world in the amount of about $1.1 trillion every year. Leftovers and out-of-stock scenarios can be eliminated. AI in the retail supply chain can be used for restocking — calculating the demand for a particular product by taking into account a history of sales, location, weather, trends, promotions, and other parameters. Morrisons has made a better situation with stock forecasting and replenishment in 491 stores with the help of BlueYonder. It resulted in an up to 30% reduction of in-store shelf gaps.
7. Machine Learning in retail: product categorization
LovetheSales.com is a great example of Machine Learning in the Retail Industry — it uses Machine Learning Models to classify over a million items from various sellers. Systems based on Machine Learning tag goods and sort them in different categories for customers who are seeking a particular type of product. Lalafo sellers can just upload the image of the products they want to sell and Machine Learning retail software with computer vision would recognize it, classify it, and even suggest a price. This platform already processes more than 900 requests in a second, improving sales with relevant content leveraging Machine Learning Models.
8. Visual search
Visual Search systems powered by Artificial Intelligence allow customers to upload images and find similar products based on colors, shapes, and patterns. Image recognition technology from Cortexica promises close to 95% accuracy. Customers approved The Find Similar feature with 90% positive feedback. The IR technology of American Eagle uses Visual Search — which not only helps people get the same or similar clothes but also suggests what would go well with it.
9. Voice search
Walmart, Tesco, Kohl's, Costco, and many other big brands use Google or Amazon AI technology to provide customers with simple and quick voice search. Now customers can just ask Alexa for the desired item and its delivery status without typing anything. In fact, 27% of people worldwide use voice search on mobile, and 52% of them prefer it to mobile apps and websites for their convenience.
10. Virtual fitting rooms
This is another awesome application we need to mention. Virtual fitting rooms are a great way for customers to save time and find the perfect outfit with all the elements perfectly matched — in a span of minutes! A virtual fitting kiosk from Me-Ality can scan you in 20 seconds and measure 200,000 points of your body in this period. Companies like Levi's, Gap, Brooks Brothers, Old Navy, and others installed these scanners in their stores and received massive sales increases.
11. Customer satisfaction tracking
Artificial Intelligence is capable of detecting the mood of your customers during the shopping process. Walmart has already introduced a facial recognition system for this function. Cameras are installed at each checkout lane and if a customer is annoyed, a shop representative will talk to him or her. Mood tracking will definitely help build stronger relationships with customers.
12. Customer behavior prediction
Personali and some other Artificial Intelligence platforms enable business owners to make use of behavioral economics and build an individual approach to each customer. Personali has an Intelligent Incentive platform that analyzes each customer's psychology and emotions to increase purchases. The algorithm processes the customer's emotional responses and behavior during previous shopping experiences and tries to come up with optimal pricing offers for a particular visitor.
Read more on AI in Customer Service
AI in the Retail Supply Chain
The supply chain is an area that could be transformed greatly by the implementation of Artificial Intelligence. There is always a necessity for quicker product delivery and improved inventory control. AI can provide a clear vision of how a certain supply chain works, detect inefficiencies, and create ways to make it better.
There are many use cases available; let's look closely to point out the biggest advantages of AI in the supply chain.
The Networks of the Supply Chain
Estimation of both internal and external supply chain expenses at every level is possible with Artificial Intelligence.
Lowering freight costs for third-party partners and their customers.
Supplier deliveries could be faster, more accurate, and more secure.
Improved upstream and downstream planning for raw materials providers, logistics companies, manufacturers, and other participants in a supply chain.
Controlling and lowering risks, thanks to a better understanding of multiple variables.
Changing the course of action when unexpected events occur.
Analytics and Prediction
Predictive and Prescriptive Analytics could be used among various retail products and locations.
Information could be extracted from a gigantic supply chain datasets to add to the retail decision-making process.
AI could be connected to other systems to improve the planning of potential demand as well as supply and product capacity adjustment.
AI is able to optimize orders to accurately meet demand.
Route Optimization
Automating trucks, ships, delivery robots, etc. will boost efficiency, allowing particular levels of a supply chain to operate autonomously.
AI could be linked with GPS tracking to make conclusions on current routes and provide improvements.
AI is able to not only make better routes, but also plan all delivery operations for the entire enterprise.
One of the top Artificial Intelligence vendors claims that the implementation of AI in inventory management resulted in a 32% cost reduction across all operations. According to Stasista1:
49% of respondents expect that Artificial Intelligence will cut costs in the supply chain.
44% expect that AI will boost productivity.
43% are sure that AI will be a major factor in boosting revenue.
40% recognize the use of AI in retail decision-making as the main benefit of the technology.
No wonder retailers pay close attention to those benefits, statistics, and occurring use cases. MarketsandMarkets predicts that global spending on AI in the retail supply chain will hit $10 billion by 2025, growing annually by over 45%.
Read more on Artificial Intelligence in Customer Service.
What to expect? [Updated 2023]
According to Contrive Datum Insights, the market size of AI in the Retail industry accounted for USD 8.41 billion in 2022. We are now on our way to an astonishing forecast of 45.74 billion by 2030, with a CAGR growth rate of 18.45%. The main reason for this growth is the fact that more people use the Internet and smart devices. Additionally, there is an increasing need for surveillance and monitoring in physical stores. Some governments also encourage digitization, so this plays a big role in the increase of AI in the Retail market as well.
While we can't say that there will be major industry disruptions compared to the previous years, we should expect more AI-driven personalization during the shopping process. Things like personalized product recommendations that are based on browsing and buying history will become more popular.
Another interesting trend you should be aware of is the growing focus on the way how products are made. It is called consumer ethics, and AI here can track and monitor the supply chain of products to ensure that they are sourced from acceptable sources.
No matter how the market will change, our AI/ML department is ready to implement an AI-based solution or create one from scratch in accordance with your needs and help you stay ahead of your competition!
Read also: How to Create a Marketplace Platform
Conclusion
Artificial Intelligence and Machine Learning-based solutions can help your retail business grow. Stay relevant and surpass your competitors in the market! Automated processes, better insights for your business, and improved customer engagement will result in increased revenue. Artificial Intelligence retail and eCommerce solutions like chatbots, visual search, or voice search can dramatically increase your bottom line.
Ready to speed up your Software Development?
Explore the solutions we offer to see how we can assist you!
Schedule a Call