June 2, 2022
Introduction to offshore software development
In 2022, technological advancements and the way organizations operated strengthened most businesses' conviction that almost everything can be outsourced. Here are some software development outsourcing statistics: annually, the US outsources around 300,000 jobs.
According to Statista, the global offshore software outsourcing market will surpass $400 billion in the next four years. By comparison, two years ago in 2019, the offshore software outsourcing market was not even worth $100 billion. Thus, the current and potential growth is astonishing! In this article, we will focus on the IT industry and review all aspects of offshore software development services, as well as the ways to establish a relationship with your potential software development partners.
Typically, you can hear two terms when it deals with hiring software solutions specialists: software outsourcing and offshore software development. These terms are often used interchangeably and are hence frequently assumed to imply the same thing. So, what's the difference?
Sometimes, you don't need to go far to reach out to an outsourcing company. For instance, in a situation where you need to hire Java developers for a specific task, you can do so by just visiting an office right around the corner or in the same building where your office is located. However, when Java development services are simply not available due to the lack of experts, you may need to approach an offshore software development company. You may find the required experts next door or in another country—both scenarios will still be considered software outsourcing.
Offshore software development is much different. To fulfill your software outsourcing needs, you may have to hire experts from a different country that has an entirely different taxation system. You may have to pay your hired experts at hourly rates. Your country of choice most probably boasts a high level of IT expertise and a large pool of highly skilled professionals. Or conversely, your offshore software development company of choice—someone you want to exclusively partner up with—just happens to be in another country.
You can hire a dedicated software development team or a team of experts who will work for you as part of an IT Staff Augmentation arrangement. In the former case, the experts will be managed by your outsourcing partner. In the latter scenario, the experts will join your existing team. Both the engagement models are used by both outsourcing companies and offshore software development companies.
Finding an offshore custom software development company that suits your business' needs, lives up to your expectations, and shares your vision requires an immense amount of time and effort. We will break down the most important things that you must know, offer our own insights and recommendations, share our practical experience, and analyze the current hourly rates for experts in different countries. If you would like to enhance your R&D capabilities with an offshore development team from the other side of the world, read on to find out how to do that the right way!
"If you deprive yourself of outsourcing and your competitors do not, you're putting yourself out of business."
— Lee Kuan Yew
Top 7 reasons to partner with an offshore software development company
Lower costs
Without a shadow of a doubt, the foremost reason to cooperate with an offshore software development company is to achieve budget savings. According to Deloitte, 70% of the companies hire additional experts to reduce production costs. There are countries with an abundance of available professionals that could fulfill specific business and technical demands more cost-effectively than the local talent.
Offshore team expansion on-demand
According to the above research, the next major reason for hiring additional talent is flexibility, with nearly 40% of surveyed business leaders supporting this statement. Offshore custom software development companies will provide experts for specific tasks, thus allowing you to scale your team up or down in accordance with your current goals.
Connecting with the top experts
You will certainly have more options to connect with any technological experts you require, from Artificial Intelligence (AI) and Machine Learning (ML) specialists to experts proficient in any modern programming language. Consequently, you will gain a competitive edge in your industry.
You don't need to train employees
You will have access to a larger pool of experts and can hire talent for specific projects for a certain period of time. Because of this, you can train your in-house personnel only for your long-term business goals that largely stay unchanged. Furthermore, you can focus on improving your managers' qualifications, rather than spend money on training technical experts.
Faster time-to-market
The speed of development is a crucial factor that determines your organization's competitiveness. Opting for offshore custom software development services will enable your business to deliver products more promptly.
No administration and hiring hassles
All the recruitment and HR activities will be on your partner, sparing you the sometimes lengthy and exhausting hiring process, which can slow down your workflow.
Locale-specific customization of software solutions
You will have the advantage of being able to adapt your software for a specific region without any mistakes in terms of their focus, functionality, content, or translation that is often created by people who are not familiar with the culture and language of this region.
Offshore software development: What services can be outsourced in the first place?
Now that we have discussed the reasons to join forces with an offshore software development company, let's go through the services you can delegate to a remote team and achieve higher results as compared to the in-house team.
Web development services
Offshore software development companies can boost your online presence with a modern website or upgrade an existing one by offering professional web development services. You will not be limited by the absence of local talent in your area or the necessity to train your existing team to keep up with the business demands.
Mobile app development services
If you are a startup that makes a mobile application, the time-to-market is the one crucial factor that will make or break your product. Here offshoring software development can ensure the necessary speed to deliver your app on time. Usually, offshore software development companies already have assembled teams that have a lot of experience working together and have a high level of communication among them. To ensure the best results, you'll just have to pick an offshore software development vendor that will have the expertise, tech skills, and a proven track record of working with similar projects.
UI/UX design
Just like with any other type of expert, a proficient UI/UX designer can save your organization a lot of time with a solution that makes a complex interface simple to use in practice. Offshore software development companies might have just the experts you need to create easy-to-use and intuitive interfaces for your website or app!
Quality Assurance services
You may already have a bunch of outstanding programmers creating your product. However, to launch this product without bugs you need an experienced team of testers. Offshore software development companies may offer you both QA Manual and QA Automation experts who will be able to test your software remotely in the most efficient way. Recently, we had a case study, on the SPD Technology blog, where we discussed in detail how our QA experts are able to help Roche to build medical device simulators remotely. From this case study, you can learn that our QAs are not just helping with the code, but are engaged in effectively testing software on real machines remotely.
The offshore software development process is by far not limited to these four directions. You can just as easily delegate to an offshore outsourcing software development company tasks for product maintenance, future improvement, or the development of security solutions.
Your offshore software development experience is not limited to programmers and testers. A big IT vendor can also offer you experts who will cover your management, customer support, tax, legal, and hiring needs.
The risks of partnering with an offshore software development company and how we handle them
The need for extensive project management and involvement
You may have to pay more attention than expected to manage your newly hired experts. However, with an IT partner that focuses on improving your business, understands its role clearly, and not simply delivers the code, you may not encounter this problem at all.
There are multiple ways to deal with this risk. Based on SPD Technology's experience, we are offering the Managed Product Model and Managed Service/Dedicated Team Models to provide on-site management and do our best to handle software development projects without any extensive involvement on the part of our clients.
With a high management involvement on our end, the risks of any incorrectly developed or missing functionality and those of under-delivering are kept at a minimum. Share your business vision and goals with your offshore software development company, so they can understand your organization better. This ensures you spend as little effort as possible on managing your hired experts.
Differences in time zones
Hurdles associated with the different time zones are unavoidable, but devoted offshore software companies find ways to compromise and stay available 24/7 when necessary.
With the right management, some time zone differences can prove to be favorable in establishing a non-stop process: your software engineers keep on working on the product when the client is asleep.
While often considered unfavorable or risky, a time zone difference can prove to be a beneficial factor. The teams on both ends will be spurred to communicate better, save each other's time, and make the most of the communications between the teams. This apparent limitation can become a hidden driver for boosting the effectiveness of the communication process.
Cultural gap
Most offshore software development companies are composed of people who are not fluent in English. Thus, the cultural gap is inevitably almost always an issue, at least to a certain extent. To deal with it, having local representatives might help. At the SPD Technology, for instance, we have local representatives in the US, the UK, and Israel to enable smoother communication.
The problem of hidden costs is quite common in the IT market in general. You can have a team of in-house experts that will calculate the project scope incorrectly, impacting the project's final budget. In the case of outsourcing, offshore development, and in-house development, the involvement of the development team with your vision, domain expertise, and transparency stages are key throughout the project.
Legislation
Be well-versed in the legal specifics of the region you want to work in order to prevent any potential legal hurdles.
Data privacy
Always sign an NDA and make sure that your potential partner adheres to modern data privacy practices. The VPN, PCI, ISO, HIPAA, and Encrypted Channels will help ensure that your information is safe.
Security
In projects with significantly sensitive information, some additional security practices might be required. As has been the case with some of SPD Technology's clients, each developer in an offshore team was provided a secured laptop to completely rule out any possible data leaks.
Choose the right partner among the offshore software development companies
Define your goals clearly
Before hiring a team for offshore software development services, it's vital to be clear on the goals that you want to achieve, the exact results you expect, and the time frame within which you intend to achieve these results.
Create a long list of potential partners
It is ideal to list as many offshore software development companies that could be your potential partners, as possible. Pay due attention to the quality of their services, expertise, and security standards.
Evaluate the track record of potential vendors
Case studies, reviews, testimonials, and references will help you understand whether the experience of each offshore software company is legitimate.
Make sure the company suits the organization of your size
A software development company's recruitment capacity is a crucial factor. Small-sized vendors might not have the necessary experts and require more time to find a proper team for a large-scale project. This may potentially hamper your team's scalability.
Partner with a development company whose employees hold it in high regard
Since your IT provider will be responsible for all the HR activities, it is only natural to check their reputation among their employees and find out if it is really a great place to work. An IT partner with a high reputation will hire IT professionals more quickly, enabling you to scale at your required pace.
Join forces with a company experienced in your industry
Even the best offshore software development company will require some time to accommodate a new business niche if it has no previous experience working for clients in it. Try partnering up with right offshore development company that has built similar products and been involved in some significant projects in your industry.
Investigate the infrastructure and workflow of your potential partner
Learn about the equipment, administrative facilities, and other infrastructure that your potential IT partner has. Understanding the workflow and the management processes of an IT provider will help you draw important conclusions on the future of your possible partnership with them.
Check the security policies of your potential custom software provider
As mentioned previously, it is imperative that your potential partner adheres to the latest security practices and has effective data privacy and security policies in place. An industry such as Finance, for instance, might require implementing more security measures than some other data-sensitive industries.
Conduct a detailed interview
After the above points are duly considered, it will be time to contact your IT provider candidates and ensure that they share your business vision. These offshore software development companies should further be willing to be active participants in implementing your project to accomplish the desired results.
ARE YOU INTERESTED IN HIRING A DEDICATED DEVELOPMENT TEAM?
Learn all the details on Dedicated Development Team model for software development projects
Read the article
The most popular offshore software product development cooperation models
Essentially, there are two financial models you can employ for the purpose of cooperation that include the following most common scenarios:
Time and Material (T&M)
This model is the most suitable for those cases when the direction, budget, and scope of the project might change during the development process. Based on our experience at the SPD Technology, we recommend using this approach for most of the projects we take on. It works perfectly for building a dedicated team.
Fixed Price
If you have a small-to-medium project with clear requirements and a fixed budget, you might want to take this approach via the T&M model. Be mindful that this model is not flexible. It will not work with any significant changes during the product development process.
| | Time and Material | Fixed Price |
| --- | --- | --- |
| Project size | Any | Small/Medium |
| Requirements | Evolving | Predefined |
| Flexibility | High | Low |
| Budget | Estimated | Predefined |
| Client control | Full, if necessary | Low |
| Warranty | Not set | Predefined |
| Methodology | Agile | Waterfall |
It is important to understand that after choosing the appropriate financial model, you can pick one of SPD Technology's Engagement Models To Build A Lasting Partnership. At the SPD Technology, we offer the following:
Managed product model
This engagement model is tailored to accomplish business goals with a strict budget and timeline. You will get a complete product right on schedule, transparency during each phase of the development cycle, and detailed reports on the progress. Our team will be responsible for your project from the initial idea to its final release.
The basic project team composition can include:
A Business Analyst (BA)/Project Manager (PM)
A Designer
A Solution Architect
An External Technical Lead or Consultant
Offshore software engineers, suitable for the project's needs
Managed Service or Dedicated Team Model
This engagement model is suitable when combined with the T&M financial model. It is great for projects where the flexibility to adjust to new requirements is essential. You will be provided a scalable offshore team with the option of shared-decision making. Typically, there will be a manager and a team of dedicated experts required to do the job.
Managed or Extended Team Model
When you already have a team of experts and want to boost your performance, you may simply add the required remote professionals to your project and manage them from your end. With this approach, you will lower your costs significantly and encourage your existing team to work at a greater pace.
Top countries for offshore software development and the price comparison
Now, let's compare some of the most popular regions to find software development experts in 2022.
Latin America
With the minimal time difference, Latin America is usually the most preferable region for North American companies to approach and acquire experts. In 2020, the region's tech talent pool exceeded half a million experts, with Brazil being the top country in the region.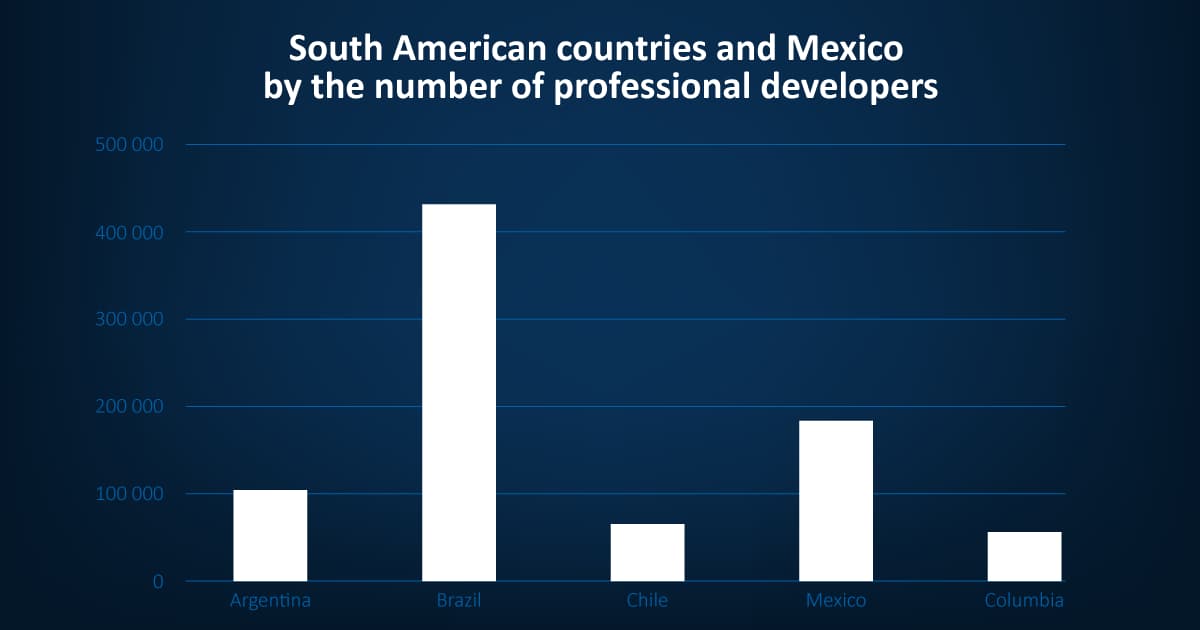 Asia
This region has one of the biggest talent pools for any offshore software product development. India alone has over 4 million available experts! However, the technical skills of these experts are not always the best. This can be attributed to India being home to both world-class experts and a few non-proficient vendors. With a limited budget and time, aggravated by the lack of experience, you will always face the risk of ending up with a beginner-level IT partner.
China and the Philippines are the two other countries in this region worth mentioning, with nearly 600,000 and 200,000 experts available, respectively.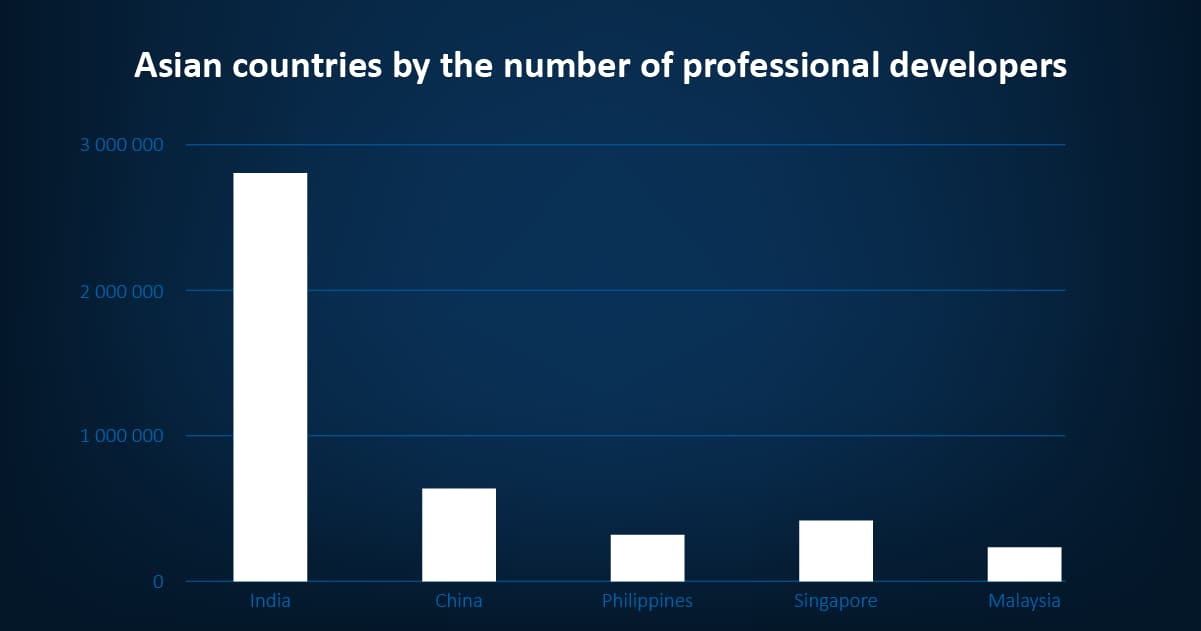 Eastern Europe
While this region is not as massive as Asia, Eastern Europe has some of the most proficient experts, with over 1 million available experts in total.
Most experts in the region come from Ukraine and Poland. Ukraine is home to over 1,500 outsourcing software development companies prepared to work as offshore software developers. A little over 30% of the programmers in Poland are willing to work as outsourced specialists.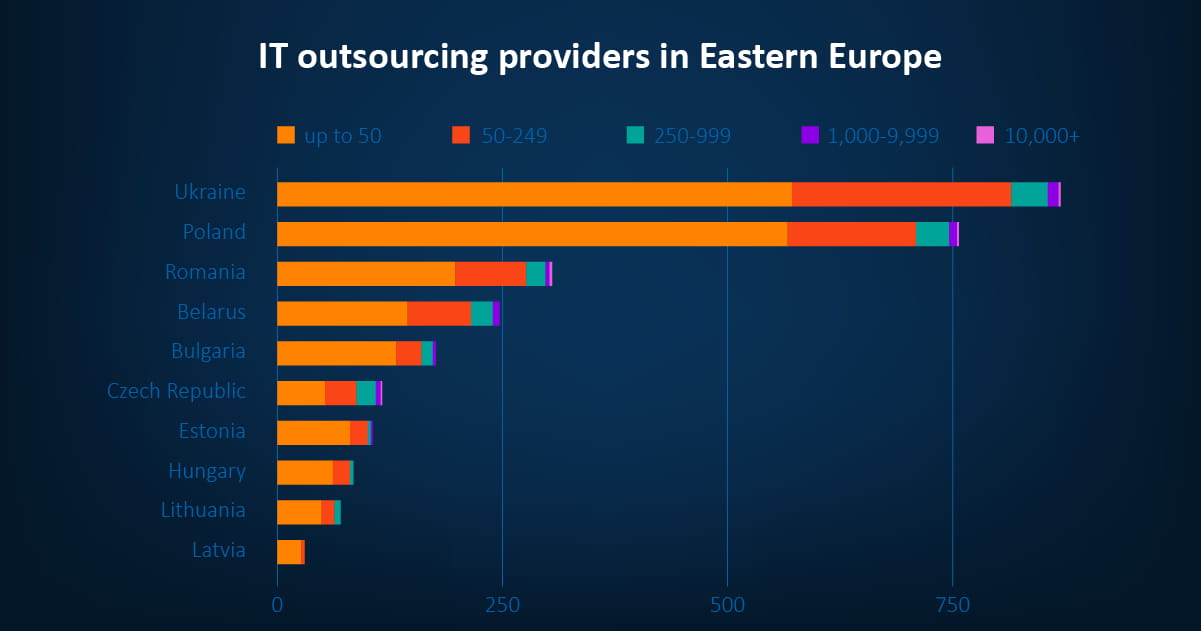 As far as offshore software development costs are concerned, we can compare countries and regions by average rates. The annual salary of a software developer in the US is estimated at $90,000–$100,000 per year, probably making it the foremost reason to leverage offshore software development services in the first place.
A major portion of the SPD Technology is located in Ukraine. Based on our experience, we consider it one of the best countries for finding outsourcing software development companies because:
200,000+ offshore software developers are available here.
$30,000 is the average yearly salary of a software developer.
70%+ of Ukrainian offshore software developers have an intermediate to advanced level of proficiency in English.
In Ukraine, your technology partner sometimes takes over a part of your business operations and technology-oriented challenges, letting you focus on the core business functions. However, with an offshore software development team model, this is not guaranteed and may vary depending on the IT partner.
Related Article: How to Set Up Your Own Offshore Development Center in 2023
Does the offshore outsourcing ethical problem really make sense?
For a lot of company owners, considering offshore software development, an ethical dilemma may pop up. But does offshore outsourcing really harm the economy of your country that much?
Yes, by leveraging offshore software development services, you do send jobs elsewhere, but the experts who could take these jobs could be not available in the first place, or their skills can be insufficient to do the expected work.
The reality is that offshore software development allows organizations to scale fast and grow their products without any compromise on quality. So, you don't have a lack of patriotism if you choose offshore software development over local talent because, in the bigger picture, the globalization you incidentally promote will strengthen the economy of your country.
The bottom line is that offshore software development allows your organization to be more productive. It allows you to deliver more high-quality products that the citizens of your country will use. Besides, you will pay more taxes in your country.
What you can't compromise on when using offshore software development services?
Price
Most businesses are interested in offshore software development as a cost-cutting measure. But in pursuit of higher revenues, make sure not to have the price as the principal factor in making a decision.
Always remember that you will get what you pay for. You should look for an offshore software development partner that has a proven track record of delivering results, and not the lowest price tag.
Experts
The problem of a lack of talent can be associated with the offshore software development realm as well, not just in-house teams. For example, especially, when you have a sophisticated project related to Artificial Intelligence and Machine Learning. In that case, it makes sense to wait and give your offshore software development partner some more time to hire appropriate experts.
If you expect talent to learn on the job, this may affect the quality of your entire product, and you can't let that happen. In some scenarios, you can entrust your offshore software development teams with a new development direction for them, but make sure to give them some additional time for research and training in the new niche.
Other important things we need to mention are the soft skills and problem-solving skills of your potential talent, you can't compromise on that as well. Luckily, experienced offshore software development providers have Project Managers and recruitment experts that will do a large chunk of this work for you, as they will be able to verify the skills of the candidates before the interview.
Security
Overall, this is probably one of the biggest concerns in offshore software development. Always signing an NDA is a bare minimum you can't neglect. Additionally, make sure that your offshore software development partner adheres to all necessary security standards and regulations for your particular project. For example, if you work in the Healthcare industry, your solution should be GDPR-compliant for Europe and HIPAA-compliant for the US market. For any solutions dealing with payment systems, PCI-DSS compliance is mandatory.
Find out more: Machine Learning in The Healthcare Sector
Things You Need to Do in Order to Prepare Your Organization for Leveraging Offshore Software Development Services
Decide what to outsource
The first thing you need to decide while preparing your organization for cooperation with an outsourcing software development company is what you need to outsource and to what extent.
It is important to analyze your organization to know its strengths, weaknesses, and needs. Sometimes, you might not need an outsourcing company or offshore partner at all, and hiring just a few experts via a Staff Augmentation arrangement will be just enough. As a business owner, you must have a clear understanding of whether adding particular experts to separate departments in your organization will be enough, or delegating a considerable part of your business responsibilities to an offshore development company is essential for the future growth of your organization.
So, the real question is, "How much responsibility are you willing to delegate to another offshore or outsourcing software development company?" While creating a product, you have software development, testing, design, business analysis, and marketing needs. So, you need to decide how far you are willing to go with trusting another company in some, or in all, of these areas.
From our experience, one of the most common and effective approaches is when companies in the United States of America outsource the entire software development process, including product management and marketing. This approach allows you to exercise control over the product development process more easily as compared with when you delegate product ownership. However, on the development side, you may then need Business Analysts (BAs) and Project Managers (PMs) to make sure that everything goes according to plan and your project vision.
We also had projects where the entire product was created by our teams, while the client took care of the marketing activities and overall direction in accordance with its high-level vision. This approach is also a viable option if you find a trusted and experienced partner.
Appoint a Product Owner
It is necessary to have a Product Owner for any scenario of cooperation with an outsourcing company. Even with the best team of seasoned offshore developers that can quickly begin and deliver results, controlling the direction of your product is always your responsibility. Some companies, especially startups, focus on the development speed so much that they lose direction. You need someone to make sure that your top-notch product is being created to solve real-life problems, and this is being done in accordance with your initial vision.
It is obvious that one of the biggest challenges with any team of outside experts is that they struggle to understand the real problems of your company and thereby offer proper remedies. It is also obvious that the outsiders will not have the same understanding of your internal processes as the people in your company. The nuances of your business context are the most difficult to reflect properly in the documentation because this kind of knowledge is often unstructured. However, with the right partner and a properly set-up communication process, this challenge is completely solvable. In fact, when you outsource the entire product ownership, you have to find a way to share your business vision to receive a product the way you want it to be.
You could share the context and provide your offshore development team with a deeper understanding of your organization. Great product ownership and communication are a major part of delivering this understanding to the fullest extent. A Product Owner on your side can bridge the gap between the external and internal teams by being fully aware of both the business and development aspects.
The key responsibilities of the Product Owner include:
Overseeing the project moving ahead in accordance with your direction and vision.
Ensuring that the deadlines are met at each iteration.
Proposing adjustments and changes to the project's scope and direction, when required.
Determine the extent of your tech involvement
This is another important aspect that needs to be considered. With any offshoring software development project, you need to control the results of the work done. This is especially true for cooperation with an outsourcing company. The method and aspects of control depend on what you decide to outsource. Having a Product Owner might not be enough if there is a lack of control on the technical side of things. You are faced with two options in order to have a stronger hold on the technical side: to completely trust your outsourcing software development partner, or to hire System Architects, Tech Leads, Engineering Managers, and other experts for your in-house team. These experts don't actually code, but they will supervise the technical side, and, together with the Product Owner, will provide you with a better understanding of the offshore software development process.
Create an initial backlog
Depending on the extent of your outsourcing effort, you may need a description of your product or the initial backlog for the different project goals. But if your IT partner covers the software development aspects, having a high-level vision may be just enough.
Make sure that your organization is ready for remote cooperation
Getting your infrastructure ready
Your organization must be able to welcome an extended team of experts and provide them with all the necessary resources and communication tools without causing any disruptions to your processes.
Your organization must be digitalized to the maximum extent, allowing effective online communication and collaboration. If you still have any key processes that rely on in-person meetings, physical signatures, or any other processes that cannot be digitalized, your organization is not ready for a software outsourcing arrangement. You need to take care of your internal processes before adding any external teams.
In addition to supporting your teams with all the necessary tools, your Management must clear any communication roadblocks and make their virtual board meetings secure. Eliminating all bottlenecks that prevent your company from effective offshoring cooperation is a benefit in itself even if you don't cooperate with a software development partner as yet. Digital transformation will improve your processes, saving your employees' working time and thereby saving you money.
Access and permissions
Your system must be able to provide different levels of permissions to different user groups.
While outsourcing or offshoring your software development, you will face situations when limited permissions will be required for users to solve certain problems. Every system is unique. Some systems may already be able to provide such permissions by using some other existing software solutions, while others may have a single administrator role that is designed to grant only the "all or nothing" kind of access.
So, it is recommended that you implement a multi-role user hierarchy with varying permissions to ensure productive collaboration with your external teams. In fact, flexible access and permissions functionality are a must-have for large enterprises, while for smaller organizations, this can be an option that is worth considering.
Identifying dependencies
In addition to taking into account the implementation of flexible access and varying permissions for your external teams, it is also important to determine the dependencies inside your organization. When you identify all the dependencies, you will be able to rule out the possibility of your departments' activities blocking your external team.
Preparing a security system
if you have never used any external help before, some parts of your infrastructure, security-wise, can suit only your in-house team. Therefore, your security model must be revisited and readjusted for outsourcing cooperation to keep your project safe. The most common practice for remote teams is to use a VPN or provide external experts in offshore offices, who will use software that is pre-installed by your security department.
Plan business trips to meet your IT partner
You need to find a way to conduct face-to-face meetings with your offshore software development teams every once in a while. Allow for such trips in your budget and cover all the logistical aspects. You will need these meetings to sync better with your teams in terms of the technical and business vision.
Preparing your existing team
The practice of using offshore software development services is quite common. However, there can still be some job security-related fears among the members of your team. It is important for you to explain to them why you outsource and that there should not be any reason for them to worry. In most cases, business leaders outsource because of the lack of required experts on the market, and not because they want to fire somebody from their in-house team. In contrast, the expansion of your team with remote experts may result in some of the members of your existing team getting promoted. So, it is extremely important to provide your team with a context as to why you are hiring remote experts. This will help keep their motivation and productivity high.
Another crucial point of discussion is how your in-house team members treat the remote team. Sometimes, your leading in-house experts can be protective about certain technologies, approaches, or even the code they write. It is your responsibility to do everything you can to not only set up the communication but also to provide your in-house team members with the right perspective. It may take time for the offshore software development team to gain the trust of your in-house team. For this reason, during the early stages of your cooperation with your outsourcing provider, you may need to talk to your in-house team leaders about why it is beneficial for everybody to share information about the technical aspects of your development process. Both your in-house and offshore teams must feel important in terms of their opinions. If you manage to achieve that in your project, you will get the best possible results from both parties and, possibly, reduce the number of potential conflicts and misunderstandings.
Offshore software development: Best practices and recommendations
To make the most out of your partnership, consider some of the following recommendations in your collaboration with an offshore team.
Establish transparency in communication
This is the most important recommendation there is. It is vital to talk openly about the challenges – technical, business, and product-related ones. Also, try to find the appropriate solutions during the early stages.
Make sure that you do your part. Simply receiving reports from your software development team is not enough. It is also crucial to ensure that you will be able to raise your remote experts' level of knowledge by sharing your company vision with them and providing more understanding of your business processes. However, knowledge sharing must occur from both sides. That's why at the SPD Technology we practice educational sessions and workshops with our clients and third-party IT providers.
Treat the remote team as a part of your company
This is essential to help your software development provider understand and share your business vision, direction, and corporate culture for better results. In fact, close mutual involvement lays the foundation for long-term partner relationships and brings maximum value to both sides.
What to expect? [Updated 2023]
Probably, one of the main trends that will change software development in 2023 is a wider implementation of Cloud Computing. It is already one of the most widely used ways for businesses to store data, as in 2022, 57% of organizations moved their workloads to the cloud. This year this number is expected to grow even further. Just in two years, the Cloud Computing market will be worth an astonishing USD 800 billion!
What does that mean for the offshore software development industry? With more organizations moving to the Cloud and adapting their infrastructure for remote collaboration, the more offshore software development opportunities there are. Whatever industry you operate in, the chances are they are probably thinking of or implementing offshore development to their benefit.
SPD Technology's experts are ready to help you beat the competition and not only have practical experience with Cloud Computing technology but can also implement in your projects technologies like Artificial Intelligence and Machine Learning.
Our expertise
The SPD Technology has been a trusted offshore software development partner for companies around the globe for 15+ years.
In 90% of our projects, we serve as an offshore software development service provider that not only delivers software but also becomes part of the corporate culture of our clients.
We establish trustful communication and add value to our clients' businesses. Our software development company has helped remotely raise startups that were later acquired by bigger companies and transformed into large enterprises.
Our clients own award-winning financial platforms that trust us in working with highly sensitive financial data. Our teams always use VPNs, Encrypted Channels, and Data, and adhere to any security requirements that our clients must comply with.
In one of our long-term projects, we have developed from scratch a solution for a financial industry giant. We designed the system's microservice architecture- and provided overall consulting, ongoing development, maintenance, and support. With this remarkable partnership lasting for over a decade, we have managed to organize the work of 200+ experts based in 4 countries, interacting with them 24/7.
At SPD Technology, we adhere to the Agile/Scrum approach in software development and know how to organize our dedicated teams to deliver effective results. Additionally, we use innovative frameworks to boost the effectiveness of distributed teams even more. One of those frameworks is Metucat, and it is aimed at developing, maintaining, and evolving data-centric applications. Metucat drives and controls application development using visual metadata, where the architecture becomes an organic part of the system. For distributed outsourcing teams, this framework allows working on the different parts of the product independently and at the same time.
The average duration of our client relationships constitutes 5 years. We know how to become the software development partner you are on the lookout for—whether you are a startup or a big enterprise.
Conclusion
The world seems to be recovering from the devastating effects of the COVID-19 pandemic. While everything will soon return to normal, organizations have realized that remote work can be both effective and productive. As a consequence, a major related shift in the mindset of a massive number of business leaders has taken place.
Offshore software development services are likely to not only remain a cost-cutting measure or a way to connect with a larger talent pool but they also have the potential to become one of the core parts of your business that will help you fulfill your vision.
DO YOU HAVE QUESTIONS ABOUT OFFSHORE SOFTWARE DEVELOPMENT?
Contact our experts to get a free consultation and time&budget estimate for your project.
Contact Us