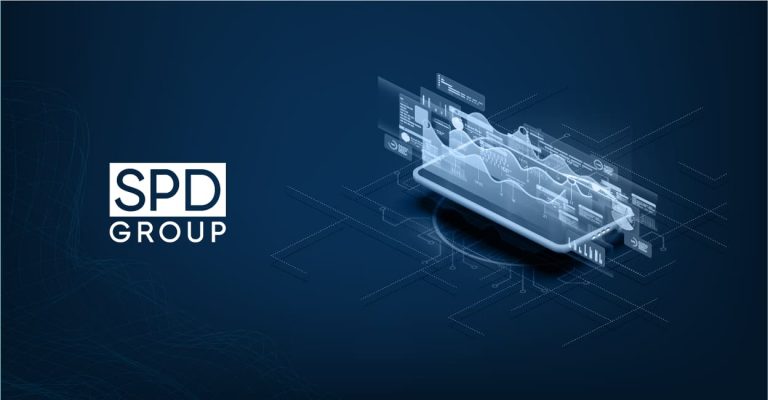 Finding the right app developer for your mobile app project can be a daunting task. With so many options available, it's important to know where to start and what to look for. In this article by SPD Technology, you can learn how to find the most suitable app developer for your project and the benefits of outsourcing mobile app development. The article provides a step-by-step guide to help you navigate the hiring process and understand the key qualities of a great application developer.
Main Thoughts
Small businesses that need a basic website can settle for readily available, no-code solutions, but if you want your business to stand out, you need a more complex software solution that requires skilled experts.
Hiring app developers on freelance platforms might seem like a good idea from a financial standpoint, but for long-term projects, it's better to hire an entire development team that includes UI/UX designers and QA specialists.
Outsourcing allows you to hire app developers to boost your existing team or build a new one from scratch, achieving faster time-to-market and reducing overall costs.
It is also the best way to hire developers for startups because it saves time and money, and outsourcing agencies often have experience in developing startups from scratch.
Introduction
On the SPD Technology blog, we have already discussed previously some of the use cases for the latest technologies like Artificial Intelligence and Machine Learning, the in and outs of custom software development, and various software outsourcing arrangements. Today, we will once again take a close look at the hiring process and help you find app developers for your software development project, whether it is the development of a mobile app, web app, custom CRM system, or enterprise-grade solution.
Why do you need to hire application developers in the first place?
If you are a small business owner that needs a basic website, you can settle for one of the readily available, possibly, no-code solutions that don't need to involve any programming at all. Platforms like Wix, are free website builders that offer simple designs and minimal functionality for those who have no desire or skill to code. However, if you want your business to stand out from the pack, you need a more complex software solution, that requires skilled experts.
Before talking about how to find developers for an app, let's examine the market we are dealing with and mention some key statistics. According to various estimates, in 2022, there are nearly 27 million software developers available worldwide. Grand View Research claims that in 2021, this market was valued at 429.59 billion, and in the next 8 years, it is expected to grow at a CAGR of 11.7%. If you've ever wondered what age group most of these programmers belong to, here is an interesting statistic by Stack Overflow: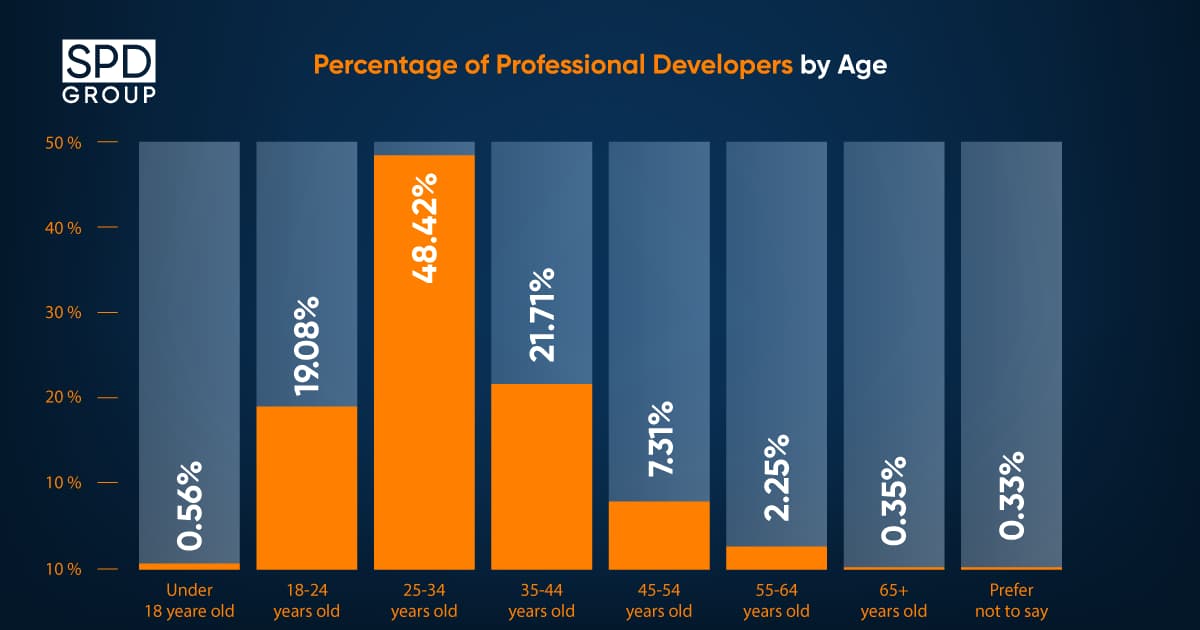 "If you think it's expensive to hire a professional, wait until you hire an amateur."
– Red Adair
What are the options for finding app developers?
Let's assume that you've already determined the scope of your project and its requirements, and you already know what kind of a product you want to build. All there is left to do is find the most suitable people for the job. In this section, we will discuss the most popular options to find mobile app developers.
Freelancers
As compared to opening your office with overhead expenses, finding app developers on freelance platforms might seem like a good idea from a financial standpoint. It is an easy answer to the question of how to find a developer for your application, and it actually is a good move for small tasks like fixing some part of the functionality of your existing solution or adding more features. According to Don't Do It Yourself, there are 57 million freelancers in the US alone, so one's chances of finding a suitable app developer are very high.
However, if you are looking to implement a long-term project, for example building a custom mobile application from the ground up, you can't rely on a single freelance expert or a couple of experts for this task. You will have to hire an entire development team that will also include at least UI/UX designers and QA specialists.
Forming a team of freelancers might end up as an expensive endeavor due to the fragmented nature of this approach and a lack of control. Additionally, you will have to manage this team by yourself or hire one more freelancer to act as a Project Manager.
In-house development or the opening of a remote office
Opening your own office locally or remotely is a good idea if you need to be working on multiple projects over an extended period of time and have maximum control over the development process. This approach is a natural fit for large enterprises, where the highest level of control and communication, as well as the creation of corporate culture, are required. You will have no time zone-related difficulties or cultural differences as you will be working in the same office building, or in the same region (in case you open a remote office).
The biggest drawback is that this is a costly option, especially in the United States and Western Europe. You will have to pay rent, taxes, and high yearly salaries no matter how productive your development team is and regardless of whether there is any work for them at all at the moment. Keep in mind, that you may end up in a situation where it is impossible to find an app developer with the required expertise locally at a particular moment in time, and this will slow down your project's implementation.
Find out more: Enterprise Mobile App Development Guide
Outsourcing agencies
With outsourcing, you can hire app developers to boost your existing team or build a new one from scratch. Under both scenarios, you will achieve a faster time-to-market for your app and reduce the overall costs for the project.
Your outsourcing vendor will be responsible for hiring the talent and managing the project. Outsourcing companies usually have the talent required for the job, or know how to find app developer experts quickly. It's a perfect option if you have a tight budget and need startup programmers, for example.
The drawbacks include the lack of control, as compared to the in-house development approach, possible setbacks related to the time zone, and cultural differences that might crop up. However, with a proficient outsourcing partner, all of those drawbacks can be dealt with, and you could receive high-quality software development services at a reasonable price.
Let's compare the three options in the following table:
Freelancers
In-house development or the opening of a remote office
Partnering with an outsourcing company
Advantages
– Cost-effectiveness
– A sizable pool of talent
– Great choice for small tasks
– Full control
– The best communication
– Reasonable price
– Large talent pool
– Scalability in accordance with your business demands
– You pay only for what you need
Disadvantages
– Lack of communication
– Lack of control
– Higher risks that the programmer will leave your project
– High priced services
– Overhead expenses
– Possible lack of local talent and complex hiring process
– Lack of control
– Possible communication issues and cultural differences
We've briefly talked about the possible options. Hopefully, we answered your question about how to find a developer or an entire team of experts. Now let's dwell on each of them and determine when each of them will be more suitable in your case.
Don't have time to read?
Book a free meeting with our experts to discover how we can help you.
Book a Meeting
How to find an app developer by yourself?
In case partnering up with an outsourcing company is not required at the moment, and you have the time to take over the programmer hiring process to handle it on your own, here are some key steps that you should definitely go through:
Conduct research
Before you hire app developers, you should at least know what they do. What programming languages do they use and what expertise does your project need? How much does it cost to hire a developer globally and locally right now? What is the scope of work this specific developer will have? Knowing the answer to these questions will help you during the interviews with your potential employees.
Evaluate experience
Ask for examples of your candidate's previous work, it better be one in your industry and with projects of similar size to yours. Reviews from previous clients would be a big plus here.
Consider soft skills
During an interview, make sure that your candidate is able to communicate well. When you find a software developer, it is very important to see whether this person is ready to work in a team and achieve goals collectively. Even with the best tech skills, if your candidate fails to get along during the first 30-minute meeting, your entire project may potentially be in trouble.
Explain your business needs
If it's not critical for the project or under NDA, it is very important to explain to your candidate in detail what kind of a project is going to be built, the target audience, target market, and so on. When your expert is emotionally attached and motivated to create a great product, you might expect more proactivity and higher performance.
Set criteria for each expert
To make this process easier for you, set a list of specific criteria for each candidate. It may include such parameters as experience, references, feedback, salary, tech stack, possible positions in a team, communication skills, hiring conditions, availability, and so on.
Where to Find Mobile App Developers
Now that we've offered some tips on interviews, let's review where to find application developers to complete your team.
Websites for freelancers
The good news is that top websites for freelancers will provide clear rates of their talent and some websites accept only proven candidates to their platforms. If you need to find an app developer, these are the places to go. Here are some platforms you should consider in the first place that will definitely answer your question of how to find an app developer:
Platforms for finding full-time employees
If you want to know where to find programmers online for a project that calls for a long-term commitment, here are some places to start:
Tech blogs
Articles on the blogs like TechCrunch, Wired or The Verge could also give you some pointers on where to find programmers and what experts you need to achieve your goals.
Communities and forums
Another important source is platforms like Behance or Dribbble. Experts post portfolios of their work there, and you can contact them if you like what they are doing.
Your network
Who knows, maybe you don't even need to think about how to find programmers, because people in your team or your peers can provide you with all the necessary contacts, all you need to do is ask.
When outsourcing is the most suitable approach for hiring app developers?
Tight deadlines
In a startup environment, you have to deliver your innovative product on time, before the competitors offer a similar solution and fill in the market niche. Your team members may not have the necessary app development expertise, and they don't have the time to learn either.
Outsourcing is the best way to hire startup programmers. Why? Because you won't probably have the time to form your own in-house department, and it will be hard to coordinate the work of separate freelancers who are collaborating on a big and complex project. Outsourcing agencies often have experience in developing startups from scratch, and they know the precise type of service you need and the most efficient way to cooperate with you.
Limited budget
For a complex long-term project, freelancers are not a good choice at all, as mentioned previously. As for the forming of your own in-house department, this can be way over your budget, if you do not have any investors with deep pockets, of course. The truth is that nowadays even major corporations outsource the work of their departments to a certain extent to achieve more cost-efficiency. According to ISG, 92% of G2000 companies use IT outsourcing. If Deloitte is to be believed, global spending on outsourcing will reach $731 billion in 2023!
Lack of local talent
This is another reason to partner up with an outsourcing company. When you have your local development team and need an additional workforce, whether to scale up or to acquire rare skill sets, outsourcing is the way to go. While under the freelance approach you will have to find mobile application developers one by one, an outsourcing vendor will be able to provide an entire team for your needs, including one with additional experts like Product Managers, Project Managers, or System Architects, when required.
Lack of understanding
When you and your team are already working on your project, you may run into some roadblocks along the way. Experienced outsourcing vendors can not only find software engineers for you but also provide IT consulting services or become business advisors to help you conduct market research and build a product vision with you.
Where to find software development companies?
The best way to find an outsourcing app development company is to use B2B platforms for IT vendors. They include all the basic information about companies, minimum project size, hourly rates for their developers, time zones, and so on. Most importantly, each entry on B2B platforms has reviews from real clients and links to a portfolio with previous work. Here are the top platforms to get you started:
How much does it cost to hire an app developer?
This question requires a complex answer since there are multiple factors that form the rate of a software developer. The main factors are expertise in technology, experience, and geographic location. You should expect the following hourly rates for developers, depending on the region, according to information from reliable sources like PayScale, SalaryExpert, Indeed, Upwork and TopTal.
Company
Full-cycle of software development, ability to implement a project from scratch
Ability to start and scale up fast
Ability to bridge an expertise gap
Startup background, MVP development experience, fast MVP/PoC development
Industry Experience
SPD Technology
Multiple complex IT products developed from the ground up
– Project kickoff within 2-3 weeks.
– Team scaling from 0 to 100+ in a month
– AI
– ML
– Blockchain
– IoT
– Numerous startup products developed
– Extensive MVP development experience
– MVP development within 3-4 weeks
– Finance
– Amusement
– eCommerce
– Delivery
– Investment
– Health
– LegalTech
– eLearning
Company 1
Only team extension experience by means of Dedicated Teams
Project kickoff within 1-2 months
AI
No MVP development experience
– eCommerce
– Health
Company 2
Staff Augmentation experience
Ability to provide 1-2 experts only
Inability to provide newer technologies
No standalone MVP development experience
No continuity in terms of industry-expertise
As for the expertise factor, the price tag depends heavily on the tech stack that the developer can use in building your product. You need to know exactly the kind of a solution you need to build in order not to overpay for the tech skills you will not need.
What's changed this year? [Updated 2023]
Over recent years, software developers have been in a pretty good position, being able to negotiate contracts and having more career options from different companies. In 2022, the general economic slowdown impacted the tech industry. Additionally, major tech companies had large talent layoffs. For example, in January 2023, Google parent Alphabet Inc. is planning to cut around 12,000 jobs, which is over 6% of their global workforce.
While some software developers will still be able to find jobs, their options are expected to be more limited. Some talent will potentially struggle to find a job or be forced to take a significant pay cut.
We, at SPD Technology, are fully aware of this situation and do everything in our power to keep the jobs of our developers working on the company's current projects. From the clients' perspective, our recruiting department is working on getting the best talent available on the market to fulfill the growing development needs of our projects and improve the quality of our service as much as possible. SPD Technology is now actively hiring talent across the globe, both as core company employees and for the staff augmentation needs of our clients.
Our expertise
We, at SPD Technology, have 16+ years of app development experience and more than a 500-strong team of professionals who have experience in working remotely on projects in multiple industries, from Finance to Logistics. Each time, we answered the question of how to find software engineers, by providing skilled experts for high-quality services and delivering great products. Our experts can offer solutions based on a wide range of technologies from offering Java development services to delivering modern AI and Machine Learning-based products.
In one of our mobile app development projects, we help Space Needle, the famous Seattle, WA landmark, to find application software engineers for creating a mobile app that is intended to improve the attendance of their observation tower. We assembled a team of 8 remote experts, who have delivered a mobile app with Augmented Reality and 4D functionality in accordance with the client's specifications. As a result, this application has become popular among the tower's visitors, having been downloaded more than 1,000,000 times for both iOS and Android in 2019. You can learn more about this project in the Building an AR Mobile App for the Seattle Landmark Space Needle case study.
As for bigger projects, our partnership with Poynt started in early 2019. Since then, we have been able to deliver a new end-to-end omnicommerce payment solution that has grown rapidly and created a new revenue stream for Poynt. Our team of 25 experts is providing a full array of product development services, including software development, software support, maintenance, and brand-new features/improvements.
Related Case: Developing an All-in-one Omnicommerce Merchant Solution for a U.S. Technology Startup
One of the tools we used while working with Poynt was Metucat. It is a cloud-based Integrated Framework for developing, maintaining, and evolving data-centric applications. This tool is used by architects, developers, and business analysts to describe the components of the system by using metadata.
Metucat allowed our distributed teams to work with a project in parallel and without time constraints. In the case of Poynt, it improved the quality of a product and communication between team members, as well as saved up to 50% of the time, spent on planning, analysis, and design.
On December 15, 2020, the American publicly traded Internet domain registrar and web hosting company GoDaddy announced the acquisition of Poynt for $320 million in cash and $45 million in deferred cash payments. Our team was part of the deal and continues to deliver great results under new ownership.
Conclusion
A great mobile or web application can be a decisive element in the success of your business. By forming a team of proficient experts, you will most likely ensure excellent execution of your business idea. Hopefully, with the guidelines and tips we've provided in this article, you will be able to find application programmers and designers to not only build an application according to specs and within the set budget and timeline, but for the development of any software product. If you need help with mobile or web development services, please do feel to free contact us at SPD Technology for a consultation.
Ready to speed up your Software Development?
Explore the solutions we offer to see how we can assist you!
Schedule a Call