Main Thoughts
IT staff augmentation is a strategy that allows companies to complete their internal teams with external experts on a permanent, short-term, or long-term basis.
It is suitable for any size and type of business that needs to scale up their software development capabilities.
The benefits of IT staff augmentation include flexibility, cost-effectiveness, quality, and access to global talent pools.
With IT staff augmentation, you can easily adjust the size of your team in accordance with your business needs and find the right, highly qualified experts.
Introduction
In one of our previous article, we have covered all the key aspects of hiring a dedicated development team. But what if you don't need an entire team to address your software development needs? In that event, you should probably look for IT team augmentation services in your region or leverage the software development offshoring approach.
What is IT staff augmentation?
By definition, staff augmentation is a strategy for companies to complete their internal teams with external experts on a permanent, short-term, or long-term basis. In software development, staff augmentation allows organizations to find the right, highly qualified experts and easily adjust the size of the team in accordance with their business needs. There are many vendors offering IT staffing solutions on a contractual basis today. This guide will help you navigate among them and find the best fit for your company.
What is staff augmentation process?
If you want to extend your team, you need to identify the required expertise and skill set, the desired number of developers, and the time that you will need to boost your team. Only when these aspects are clarified will the outsourcing vendor start picking candidates for your project.
Vendors usually have a database of tech experts and can search for additional specialists on the market, if required. After the resume screening is complete, you will be able to schedule interviews with the selected candidates and send them test tasks. Once the test and the interview are passed successfully, the IT staff augmentation company will send the candidates job offers. You will most likely have your own hiring procedures and standards, so the IT provider will make the necessary adjustments for each individual. Considering the most common variables, the hiring process can take from 10 to 21 days.
Don't have time to read?
Book a free meeting with our experts to discover how we can help you save time and money.
Book a Meeting
Why is IT staff augmentation so popular today?
Probably the biggest reason why IT staff augmentation has become a buzzword is because this approach enables companies to accelerate hiring and offers the flexibility of easily augmenting or downsizing dedicated teams. Other factors that drive companies to expand existing teams via outsourcing include the following:
The high cost of hiring and training in-house experts.
The time and effort, required to find new experts.
Rising staff turnover rate.
Unwillingness to compromise the quality of the project because of the budget constraints.
According to Clutch.co, these are the main reasons for companies that use IT staff augmentation services: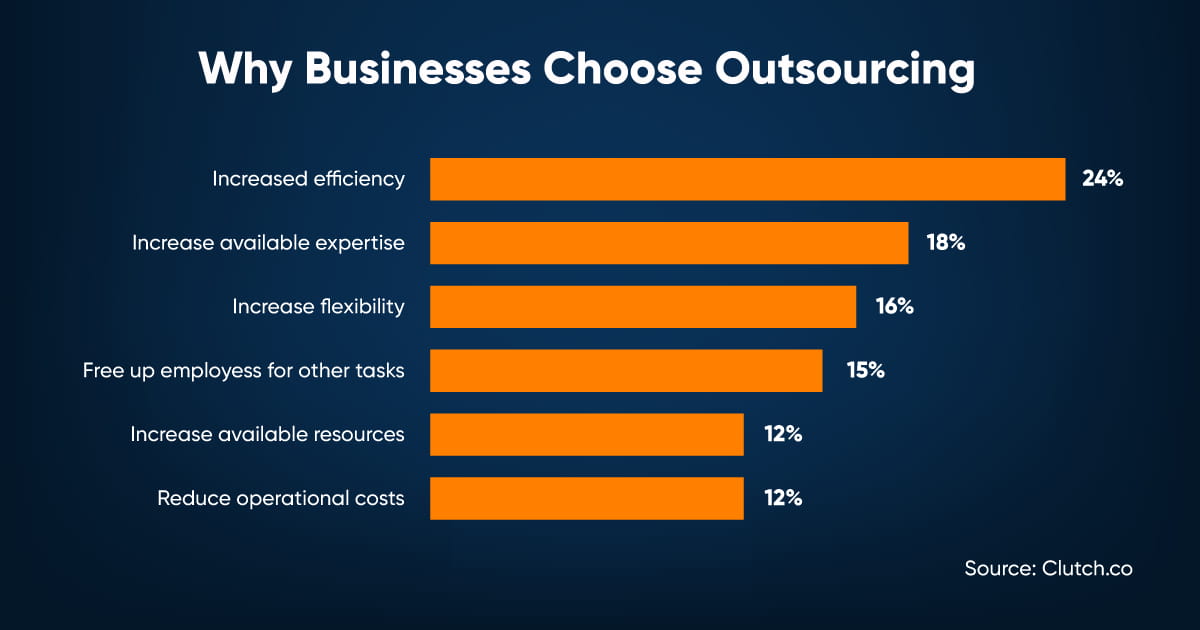 The key benefits staff augmentation
Flexibility boost
As mentioned previously, flexibility is among the top reasons for project outsourcing overall and for team augmentation in particular. This flexibility arises from the ease of replacing any team member within a relatively short time,as compared to the replacement of in-house employees. IT staffing firms take over the recruitment and HR hassles, letting you focus on adjusting the direction and the scope of the project faster.
Gaining more cost-efficiency
Hiring experts to complete your team is transparent in terms of the cost structure of payments. As you don't pay for any organizational or administrative expenses, but only the salaries and fees of the vendors, you will be able to plan and spend your budget more effectively.
Access to a global pool of talent
The dearth of the required talent on the local market or salaries that are unaffordable for your budget will no longer be a constraint for you. Nowadays, IT staff augmentation services are available around the world. They provide you with an unlimited number of options at a reasonable cost. In the post-pandemic world, most organizations have already switched to remote cooperation of some kind, and project outsourcing is more relevant than ever. According to Grand View Research, the outsourcing industry will be valued at $405.6 billion by 2027. In 2021 alone, according to Statista, business process outsourcing in the United States of America will generate up to $113 billion in revenue. So, with the growth of the outsourcing industry, the talent pool of qualified professionals will eventually become even richer.
When is IT staff augmentation the best fit for your organization?
Quick team extension for developing another part of the product
Let's say you already have a team of in-house experts developing a product, but you want to add more experts to build an entirely new part of the product. 4–6 more team members will be perfect to complete the task, but the local market has a shortage of specialists. You can't hire additional developers due to a lack of proper expertise among the available talent or because the new experts' salaries would exceed your budget. The recruitment and administrative activities may take too long, considering your deadlines, or, in the case of strong market demand for specific developer skills, recruiting the required specialists locally may take even longer.
Boosting the team working on the current goal
You are currently developing an innovative tech product with a team of qualified professionals. As the direction of your product, technology-wise, can be considered nascent, you simply don't have enough suitable developers in your country. So, you have no choice but to look for the required talent in other locations around the globe. Thus, offshore IT staff augmentation may be the only viable option in this scenario.
When working with an outsourcing company doesn't suit you, and you need greater communication with your team members
You have already established a working partnership with an outsourcing company, but you are not happy with the way it works for various reasons. Moreover, you feel that the lack of direct daily communication with your development team will hurt the overall quality of the product. Furthermore, you are not sure that remote programmers feel entirely like a full-fledged part of your organization. These two reasons alone could be a roadblock to the effective integration of remote developers with your in-house team and may impact negatively your remote experts' motivation to achieve the common goal jointly with the local team. Because of all this, it is vital to closely integrate your remote team with your in-house team to ensure seamless communication between them and create the motivation to pursue the common goal.
The main types and sources of staff augmentation
Now that we have learned how staff augmentation works, mentioned the key benefits of staff augmentation, and highlighted the most appropriate scenarios for using this approach, we can move on to discussing the existing variations of staff augmentation.
Traditional staffing or offshore staff augmentation
This is the most common way to augment your team with specialists who are not supposed to have any specific kind of expertise.
You approach an IT provider and request to extend your team with experts who have a specific skill set and experience. The IT provider then becomes responsible for the recruitment and HR activities, office space, and salaries. When the provided experts are ready to take on the project, you take over the management of these experts as your own employees. Traditional staff augmentation suits all types of projects where there is a need to increase the number of experts working on a product. However, it has its limitations that often make the other types of staff augmentation we'll review below more relevant.
Specialized staff augmentation and boutique agencies
You may have unique needs and be looking for new team members with a hard-to-come-by skill set. In this case, it makes sense to contact an agency that specializes in a specific tech stack or industry in order to narrow down the search and expedite the results.
Master vendor
Under this model, you have the option of delegating the full responsibility for staffing activities to one of the IT staff augmentation companies. The master vendor will fill all the positions on their own, or employ the services of 2nd- or even 3rd-tier recruitment agencies when required. This model offers the following benefits: cost savings, quick hiring, and the opportunity for bulk-hiring.
Staff augmentation platforms
On-demand staff augmentation platforms: similar to a partnership with a master vendor, this type of cooperation will offer you quick hiring with no recruitment hassles.
Gig platforms with access to independent contractors: these platforms will allow you to hire and assign freelancers quickly to complete short-term tasks without any recruitment hassle. While any meaningful and long-term cooperation is impossible, this may be an option if you need to complete a set of short-term tasks.
Independent contracting
If you don't have a clear project scope and think you may have to terminate your employees' contracts at short notice, you can consider this option as well.
Need help with IT Staff Augmentation services?
Book a free meeting with our experts to find out how we can help you to build your project according to your business vision.
Book a Meeting
Staff augmentation/team extension: Comparison with the most popular models
Staff augmentation services vs. Managed services
The major difference here is in the management and selection of candidates for various roles. The staff augmentation allows you to personally choose experts and organize their workflow with the methods you consider to be the most fitting ones. Your IT staff augmentation vendor will handle the recruitment, HR, and administrative tasks with all the associated paperwork, leaving you free to focus on your core responsibilities and business processes. You will be able to manage your extended team as a part of your company.
With the managed services model, the outsourcing software development company will take care of some aspects of your project. More often than not, all the coding and software development activities will be covered by the IT provider. This model allows you to have no in-house team at all. Moreover, you don't need to spend any time with your remote development team. There could be exceptions, as IT providers serve their clients as well as they can, but it is quite common not to know who exactly is working on your project, what the assigned developers are doing at the moment, and what decisions are being made to achieve the final goal. If you want to micromanage and fine-tune the development process, the managed services model may not be the best option for you.
The managed services model is a great fit when you are ready for a greater degree of delegation, want to optimize the activities of your in-house team by transferring some of them to the outsourced team, and prefer to focus on your business and marketing activities. Additionally, keep in mind that this model's providers frequently have experts or even entire teams "on bench." This means that you will have a quicker start as compared to that with augmented staff. With managed services, you might be able to start developing your product immediately, or very soon after the signature of the contract.
Staff augmentation services vs. Dedicated team
At first glance, these two models seem to be similar. However, in the Dedicated Team model, the IT provider takes over more responsibilities. With staff augmentation, you manage all the temporarily hired experts, while with the dedicated team model, the team is managed by the IT provider.
Staff augmentation services vs. building your own Offshore Development Center (ODC)
In those cases, when you need to extend your team with a considerable number of experts, (let's say 40+), you can think about setting up your own Offshore Development Center (ODC). It makes sense to establish your ODC in a country with a better business environment and access to a larger tech talent pool that meets your needs.
To establish an ODC, you should approach an IT provider that can launch a development office on your behalf in a foreign country. For a fee, this IT provider will handle the recruitment of your staff, find the required office space, and work with other service providers on things like the Internet connection, furniture, supplies, and so on.
After these aspects are taken care of, you will be able to manage your new team and office on your own as part of your company. While the vendor sets up the outfit, you will be responsible for all other risks going forward, including any legal compliance, taxation, or cultural difference-related issues.
With Staff Augmentation, when your project is complete, your hired experts just stop working on it and switch to another one provided by your IT provider. With ODC, you will have an entire development team to lay off or reassign elsewhere when the project at hand has completed development.
| | Staff Augmentation | Managed Services | Dedicated Team | ODC |
| --- | --- | --- | --- | --- |
| Recruitment | IT Provider | Experts are available/quick hiring by a vendor | IT Provider | IT Provider |
| Office buildings | IT Provider | IT Provider | IT Provider | Client |
| Payroll | IT Provider | IT Provider | IT Provider | Client |
| Management | Client | IT Provider | IT Provider | Client |
Certainly, there are more options for project outsourcing, but these are some of the most common ones. To decide which model fits you best, here are some tips that can help you pick the right one:
Think of all the data sensitivity nuances, as the mere signature of an NDA may not be enough for some projects and certain security risks will remain.
It will be a good idea to calculate the costs of training your in-house team to work with an outsourced team. Unless your processes and infrastructure are ready for remote collaboration, there may not be any actual cost savings in using outsourcing.
How to select an IT staff augmentation company?
Location
When it comes to offshore IT staffing firms, the actual geographical location is one of the key factors in finding a partner. Consider factors like cultural differences, time zone differences, the number of available talent, tech expertise, salary levels, and proficiency in English before making your decision.
Reputation
After you've made up your mind on the geography where your staff augmentation vendor must be located, it's time to move on to checking the reputation of the IT providers based there. After the provider candidates have been shortlisted, it will be a good idea to look for reviews on platforms like Clutch, Google, and Facebook. Feel free to ask the staff augmentation companies to provide references for their previous work. Awards and rankings can be another means of evaluating the provider's reputation.
Scaling capacity
It is important to know the recruitment capacities of the chosen country if you are planning to grow your outsourcing team in the future. A large talent pool available in the country of your choice does not always mean that you will be able to quickly put together a development team. In fact, sometimes creating a development team can take months. So, look for large or mid-sized outsourcing providers, as they usually have some talent on bench, and it is easier for them to attract and train new experts as the need for that arises.
Brand image
The success of your project is created by people. That's why it makes sense to check the IT provider's reputation as an employer on the local IT market. If an IT provider takes care of their employees, it will be easier for you to control the retention rate within your development team.
Established delivery model
It makes sense to partner with companies that have a proven track record in building software remotely. The vendor's experience in implementing similar projects will be a big plus. Additionally, long-lasting partnerships are also a sure sign that the IT provider is a truly reliable business partner.
Developed infrastructure
This might seem obvious, but it is important to ensure that your potential IT staff augmentation partner will be able to run processes efficiently and has all the necessary hardware, software, and network resources on site to deliver staff augmentation services.
Highest security standards
Security should be a priority for everyone involved in the development process. Today, it is indispensable for an IT provider to comply with international security standards, including ISO, PCI, and HIPAA. Your IT provider must necessarily have secure office facilities, protected IT infrastructure, and experts who are capable of mitigating the security risks.
What to expect from the software development industry this year? [Updated 2023]
This year, software development will remain the most outsourced IT service. In 2022, over 60% of companies outsourced some software development, and by the end of 2023, we should expect this number to be even higher. Global economic spending on IT services
will increase by 5.1% despite the current global economic slowdown.
What do these stats mean for IT staff augmentation? This means that cost reduction will no longer be as important as it was before, and business decision-makers will be ready to spend more to maximize efficiency and catch up with the current technological trends.
Massive firings by large tech corporations will also impact companies that are looking to hire talent. There will be more proficient and experienced software development experts that will be willing to work via the staff augmentation model.
We, at SPD Technology, are ready to help you hire talent, from a single developer to an entire dedicated team as fast as possible.
Our experience in IT staff augmentation services
Here at SPD Technology, we have over 15 years of experience in software development services and currently employ 500+ experts. These experts have a high level of proficiency in the latest technologies and also experience in areas like Custom Software Development, AI Solutions Development, IoT Solutions Development, Integration and Modernization Solutions, Proof of Concept & MVP Development, and Fintech Development.
As an example of our staff augmentation services, we have managed to extend our team by a factor of 6 within six months in response to client demand, providing experts for Poynt, a revolutionary open commerce platform and the inventor of the Smart Terminal. We began our partnership with Poynt in early 2019 and have since become their primary development partner, responsible for the company's two principal business directions.
The staff augmentation approach had proven to be a success here. One of the tools that helped our team to set up proper cooperation of the distributed teams was Metucat. This is a cloud-based Integrated Framework for developing, maintaining, and evolving data-centric web and mobile applications. Metucat uses visual metadata to help to control the development of the software product. In the case of Poynt, Metucat improved the overall product quality and communication between team members, as well as saved up to 50% of the development time on planning, analysis, and design.
After the acquisition of Poynt by GoDaddy in 2020, our team remained a partner and readily joined the new owners to achieve even better results.
As your partner, we will take care of the staff augmentation process, leveraging the expertise and experience of our powerful recruitment department that can source experts on the market to suit your IT staffing needs. Indeed, we will do everything we can to make remote experts as efficient in delivering business results, as your in-house team.
Conclusion
It is important to mention that staff augmentation is a suitable business model for business organizations of any size. Implemented properly, this model can help you make your organization more cost-effective, achieve an entirely new level of flexibility (as compared with in-house teams) and, most importantly, will leave you free to focus on your core business objectives. If you need any additional help with IT project outsourcing, please feel free to contact SPD Technology for more information.
Didn't find the answers to your questions? Ask our experts for more information on IT Staff Augmentation Services!
Explore the solutions we offer to see how we can assist you!
Schedule a Call