We've analyzed the industry and created a list of top bespoke fintech custom software development companies with brief details about location, pricing, staff size, and technologies. Also, we've done detailed research about reliable companies in the UK market, scrutinized their experience and cases.
You'll find the benefits of fintech software development companies and tips on how to choose the best partner for you.
UK's Best Fintech Software Development Companies
Disclaimer: the list of companies is arranged randomly.
SPD Technology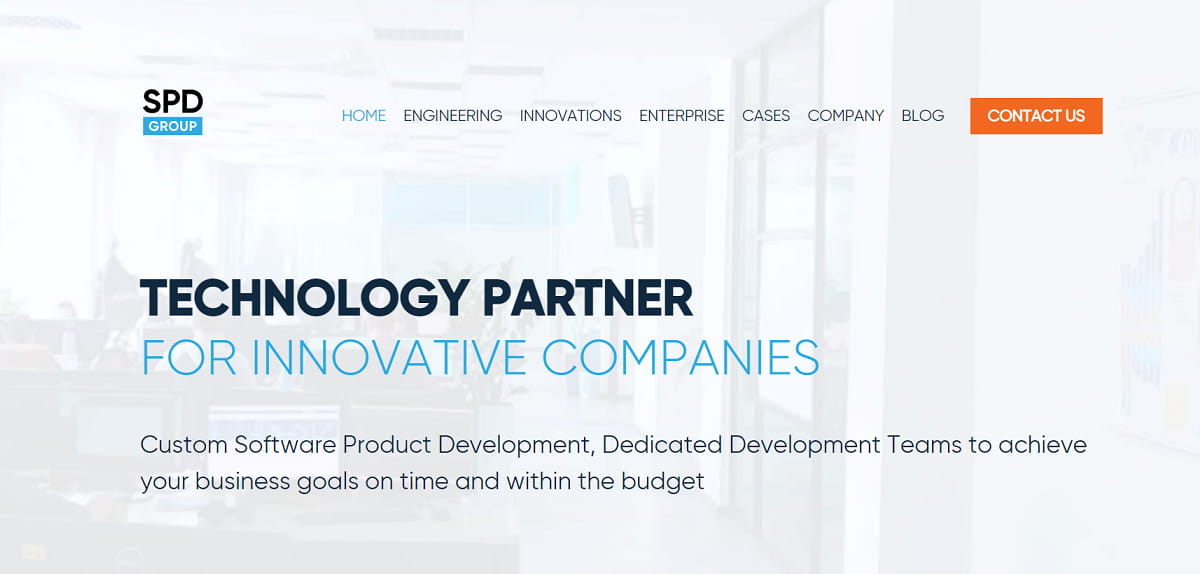 Location: London, United Kingdom
Staff size: 250 — 500
Pricing: $25 — $49/hr
Founded: 2006
Clients: Life Dreams Inc., Poynt
Clutch Rating: 4.8
SPD Technology is a London-based top fintech software development company with offices in other countries, like the US and Ukraine. Our team offers outsourced mobile and web development services, builds functional MVPs and prototypes, and provides post-release support for the delivered projects.
The main focus of SPD Technology is turned to the integration of the Internet of Things and Augmented Reality functions into their products. The company holds multiple awards, including SIIA CODiE and GeekWire Deal of The Year, among others.
Technologies
The company designs applications using​​ cutting-edge technologies ​​like GraphQL, Scala, React, Kotlin to provide quality software solutions for progressive web and mobile applications. They implement e-commerce development services, virtual terminals, invoices, recurring payments, and messaging on-demand.
SPD Technology uses the most effective tools for distributed development teams. One of those tools is Metucat, an Integrated Framework for developing, maintaining, and evolving data-centric applications. Metucat drives and controls application development using visual metadata, where the architecture becomes an organic part of the system, and it can be configured to create applications that fit into any data platform used by an enterprise or a startup. It allows distributed teams to work on different parts of a product independently. System architects, software developers, and business analysts can use Metucat for achieving their goals. This framework helped to save up to 50% of time spent on planning, analysis, and design while working on Poynt.
Don't have time to read?
Book a free meeting with our experts to discover how we can help you.
Book a Meeting
Case: Poynt – All-in-one Omnicommerce Payment Solution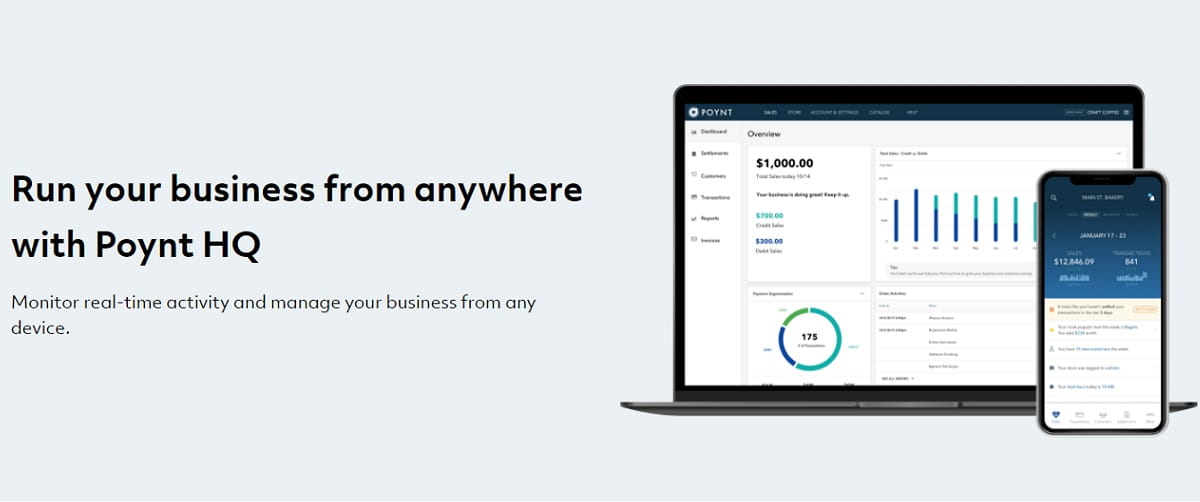 The company had to build an all-in-one omnicommerce payment solution for Poynt, an open commerce platform. The biggest technical challenge was to migrate from MySQL 5.6 to MySQL 5.7, as it can tackle the larger amount of traffic and use less storage space on Amazon servers. One more reason for this solution was the fact that MySQL 5.6 used for all database-related operations was proven to be ineffective. As a result, the team migrated all information over a year.
Case: A Personal Financial Application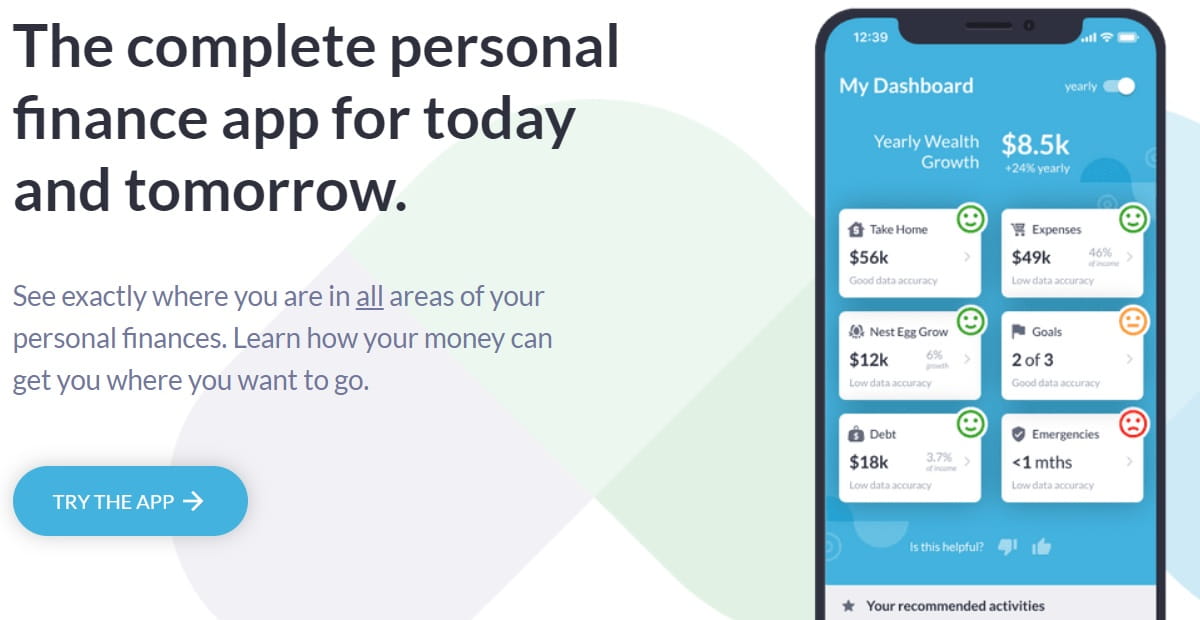 As for one of the recent company's cases, SPD Technology developed a Progressive Web Application that helps make an effective personal financial plan and achieve their goals. For example, people can track daily expenses, make retirement plans, have vacation or education savings. In addition, the application provides users with a good customer experience and functionality. The application can be installed on Android, iOS, and desktop. The company used Kotlin, Spring, JUnit, Flyway, GraphQLTS, React, Enzyme + Jest to build a Progressive Web Application.
Case: From a Pilot Team to Long-Lasting Cooperation
We've been providing Financial & Market Data Platform Development services for PitchBook, a SaaS data delivery company, with a full-cycle technology service for over 13 years. We have developed more than 263 applications and microservices to serve business needs.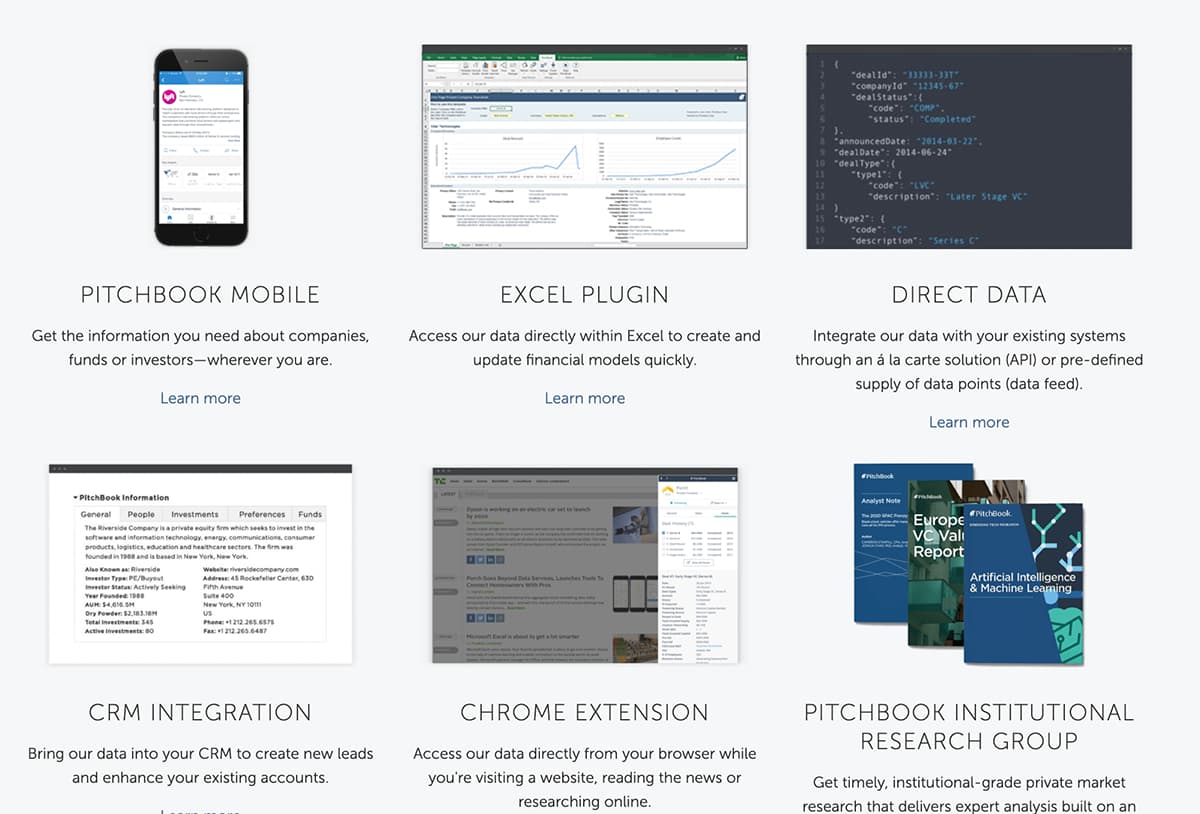 GoodCore Software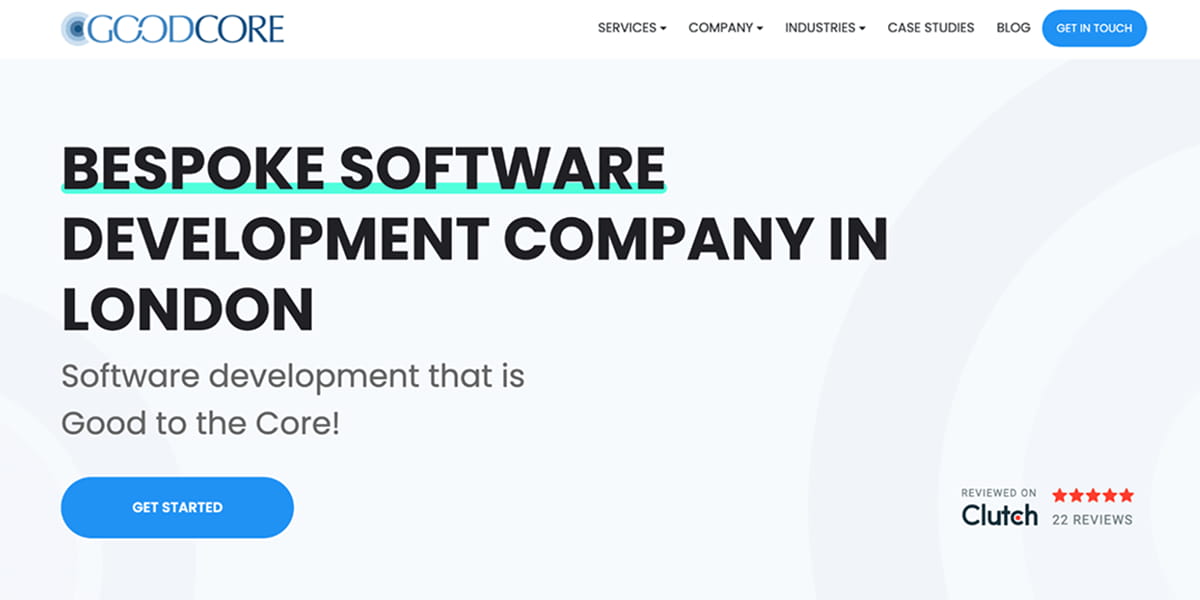 Location: London, United Kingdom
Staff size: 50 — 250
Pricing: $25 — $49/hr
Founded: 2005
Clients: The Securities Commission of Malaysia
Clutch Rating: 5.0
GoodCore Software is one of the leading financial software development companies in London. The team's workflow is organized based on the agile principle. The company stays in touch with clients over the entire process of app development.
GoodCore Software designs, develops and implements effective solutions across financial institutions and organizations. The company succeeds in offering such services as mobile and internet banking applications, custom CRM systems, and corporate portals.
Customers also admit to using robust financial reporting tools, mechanisms, and workflow automation systems implemented in their projects. The company also provides regulatory compliance monitoring software, bank branch tracking, and internal communication systems.
Technologies
The team uses tried and proven tools for their projects, including expertise in Java development services, as well as proficiency in PHP, JavaScript, ReactJS, .Net Core, MySQL.
Case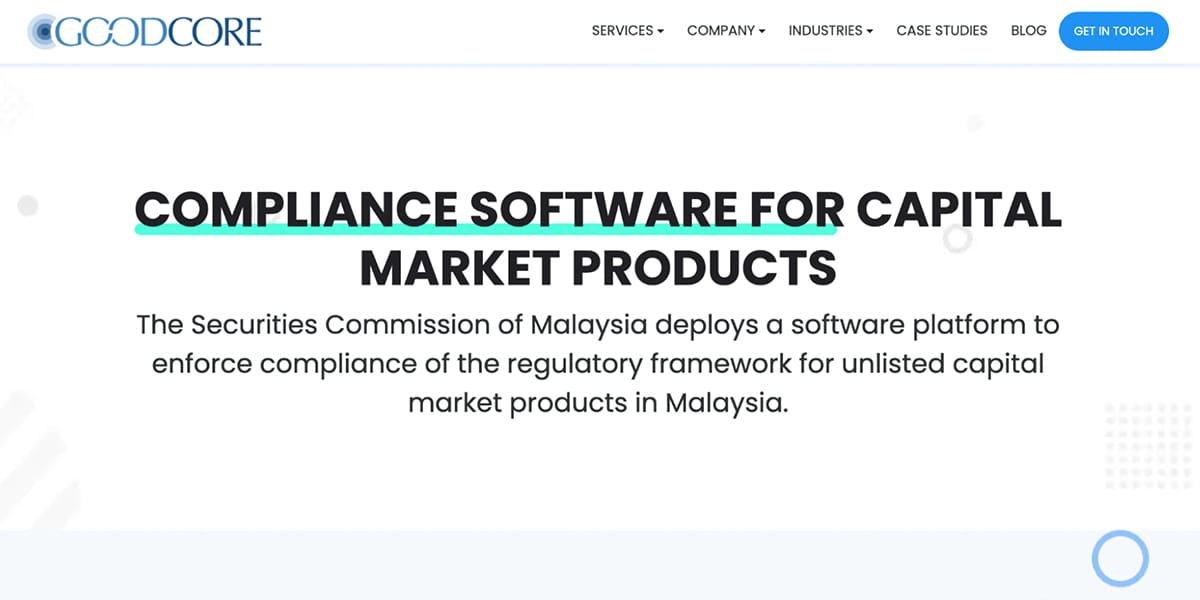 The company developed software to automate processes of unlisted capital market investment products. For many years, wholesale funds, private debt securities, and structured products were managed via Excel sheets and other documentation.
The main challenge for the company was to adapt respective financial calculations, industry rules, and operational needs in an application. The team managed to build robust software that allows smooth flow and fast operations.
Ballard Chalmers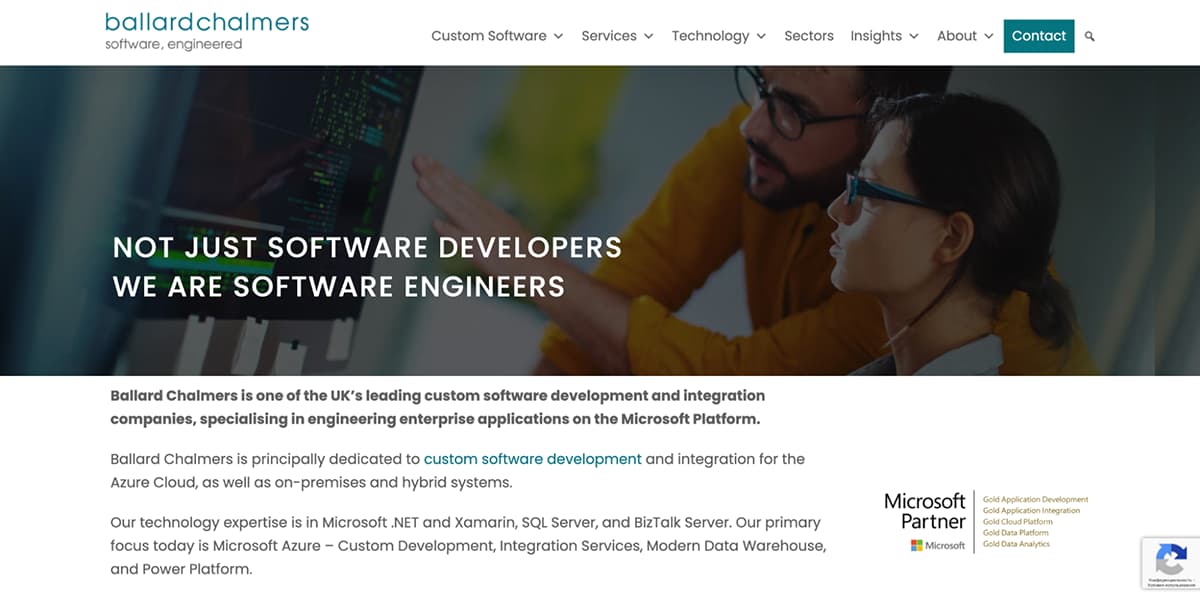 Location: East Grinstead, West Sussex
Staff size: 10 — 50
Pricing: $100 — $150/hr
Founded: 2005
Clients: Ipes, Lighthouse Group, Square Marble Technology
Clutch Rating: 4.8
Ballard Chalmers is one of the UK's leading custom fintech software development companies. It holds many-year expertise in enterprise applications on the Microsoft Platform. The company is a Microsoft Gold Partner and delivers high-quality products in the niche market.
Ballard Chalmers partners up with UK institutions and enterprises on a broad and varied range of projects. The company builds new software solutions to introduce and maintain business innovations and process streamlining. Additionally, the team helps to upgrade the existing applications by integrating online and offline enterprise systems in a secure and cost-efficient way.
Technologies
Ballard Chalmers works with the largest pool of tools to create top-quality and innovative products. Microsoft .NET and Azure, SQL Server, BizTalk Server, SharePoint Server, and Xamarin are the most often used technologies for the solutions provided by the company.
Case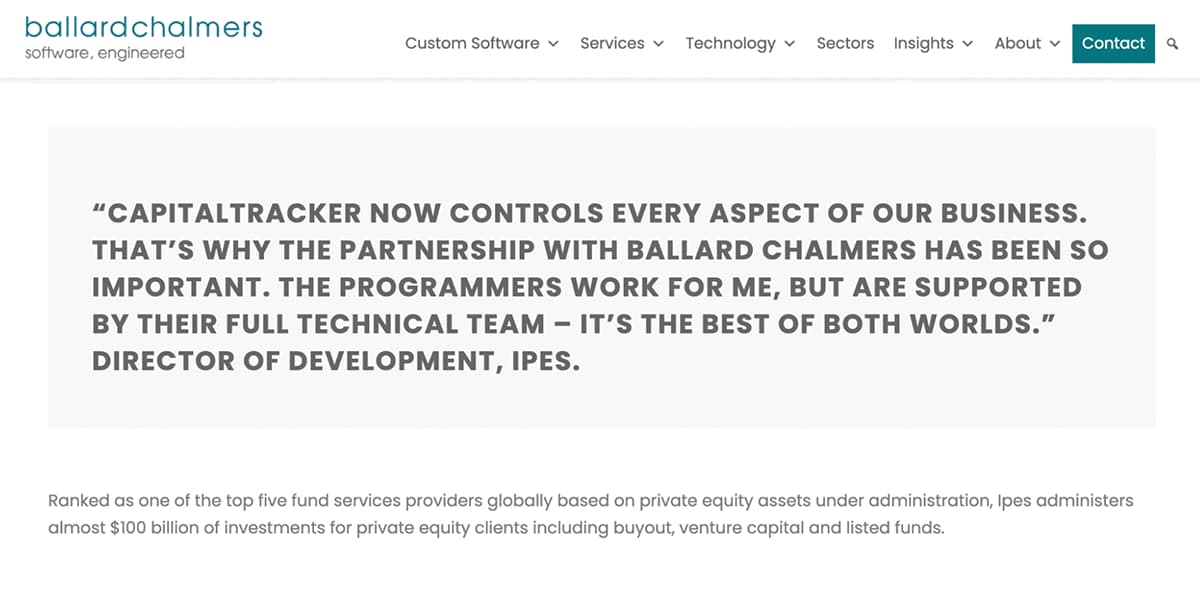 Ipes – the first and only independent private equity fund services provider decided to invest in the development of its own platform – CapitalTracker. It aims to provide significant advantages to clients and internal operations.
Ballard Chalmers designed the system with an architecture design and implementation on the Microsoft Application Platform. The team developed the first entirely web-based system in the field. It had an app-based architecture that allowed customizing views of data in real-time to every user.
As a result, investors have access to live valuations and transfer information. In addition, they could obtain required reports in a few clicks. As for the Ipes team, they got access to data across all managed funds.
Miquido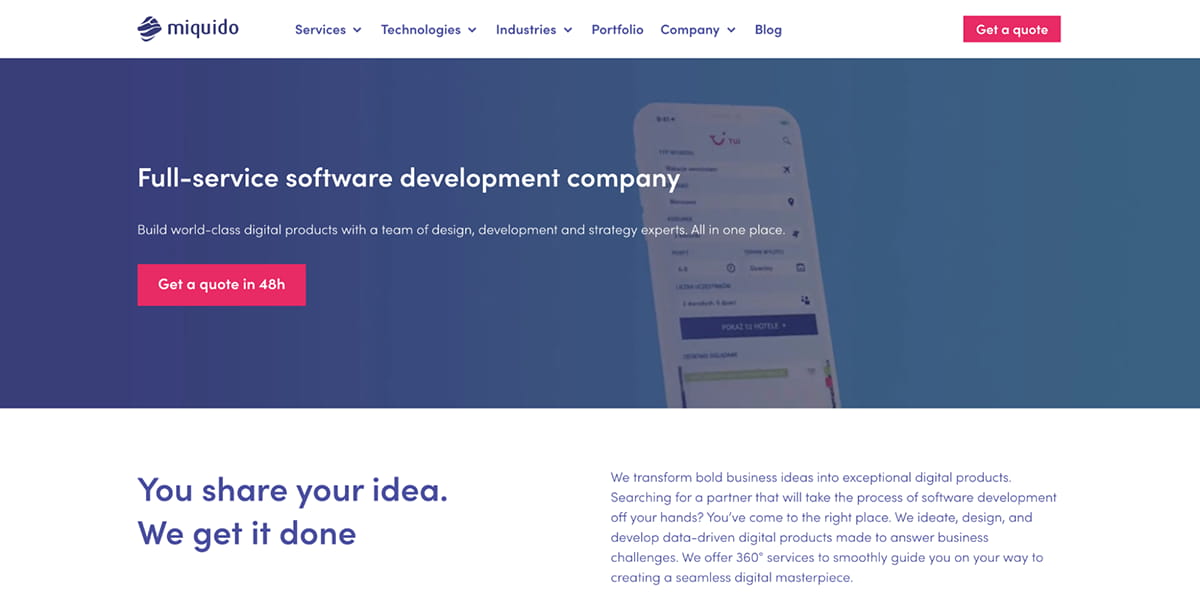 Location: UK, Poland
Staff size: 50 — 250
Pricing: $50 — $100/hr
Founded: 2011
Clients: TUI, BNP Paribas, Herbalife Nutrition, Skyscanner
Clutch Rating: 4.8
Miquido is one of the software development services companies from London and Kraków. The company solves business challenges by applying the latest technology and data-driven research. It offers complex solutions for mobile app development and web development, strategy, product design.
Technologies
The team utilizes machine learning, artificial intelligence, data science, and computer vision to roll out quality products for the banking and insurance industries.
Case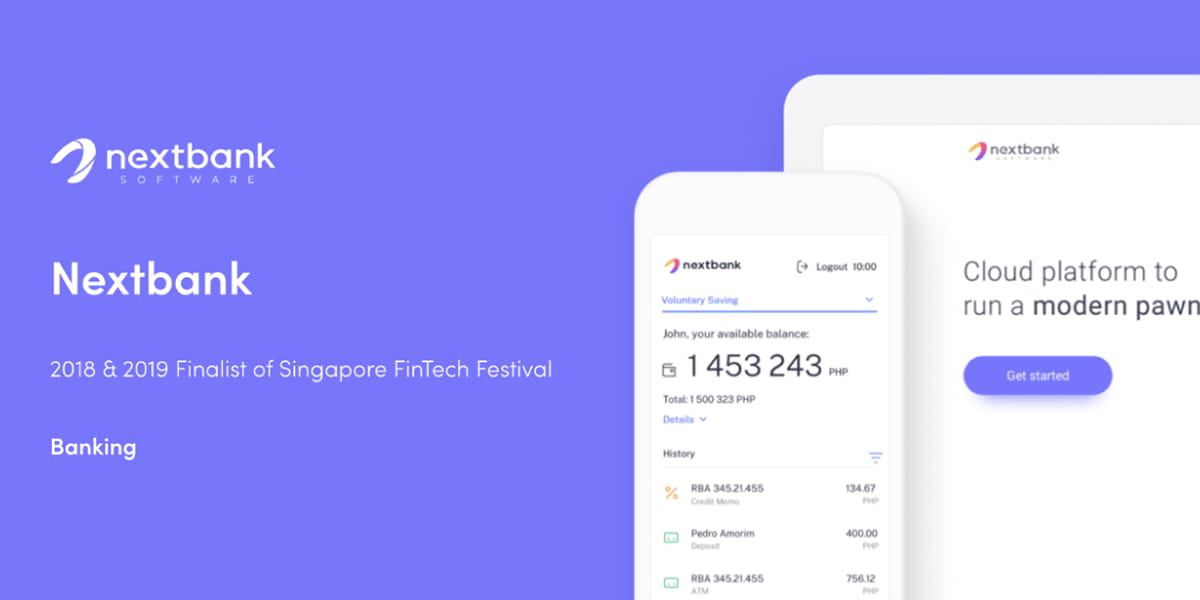 Miquido developed several systems for cloud banking solutions, including web and mobile internet banking, AI credit scoring, cloud core banking, and agency banking. In addition, the company used machine learning to build an automated scoring engine to process loan applications faster.
The team used a large pool of tech stack technologies: Java, Spring, PostgreSQL, Angular, Kotlin, Swift, Python, AWS, RDS, AWS, ECS (Fargate), AWS CloudFormation, AWS SageMaker.
Cloud Core Banking and AI Credit Scoring systems were shortlisted as finalists of the 2018 Singapore FinTech Awards.
Need help with fintech development services?
Book a free meeting with our experts to find out how we can help you to build your project according to your business vision.
Book a Meeting
Tivix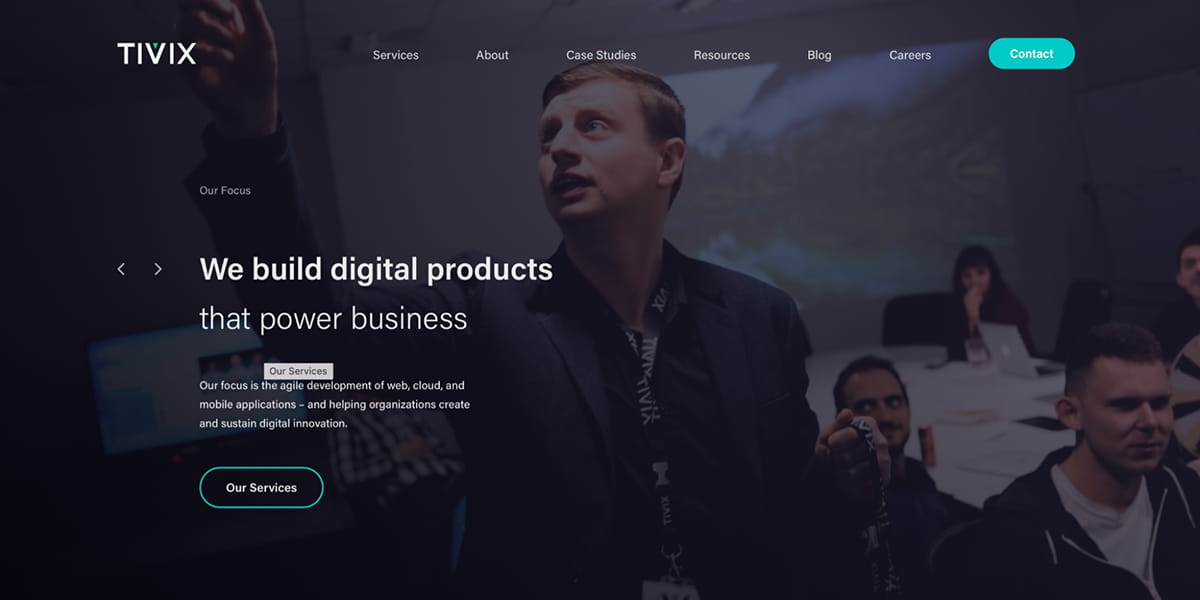 Location: UK, Poland, USA
Staff size: 50 — 250
Pricing: $50 — $100/hr
Founded: 2008
Clients: Alpha Blue Ocean, NATO ISMERLO, UN
Clutch Rating: 4.9
Tivix is a software development company specializing in the agile development of web and mobile applications. They deliver software to help companies improve their business processes and scale up.
Technologies
The company uses Python, Node.js, Angular, Polymer, React, and Java.
Case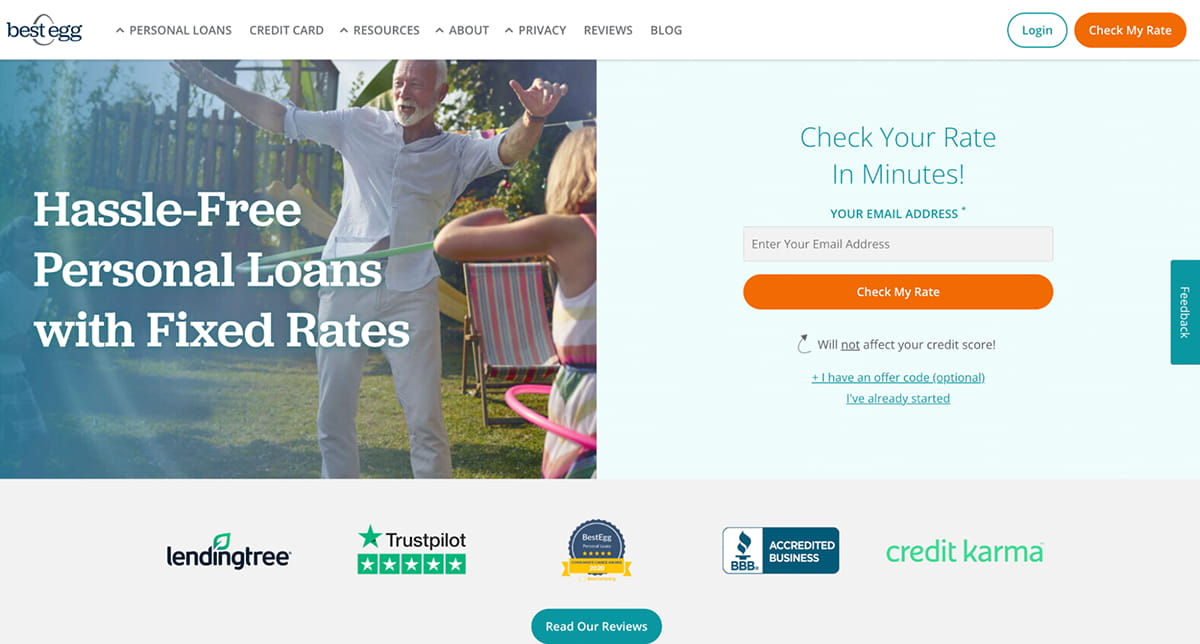 Tivix provided full-stack software engineering, project management, and UX design services developing a fintech project for Best Egg. The final result managed to provide loans to over 600,000 qualified applicants.
iTechArt Group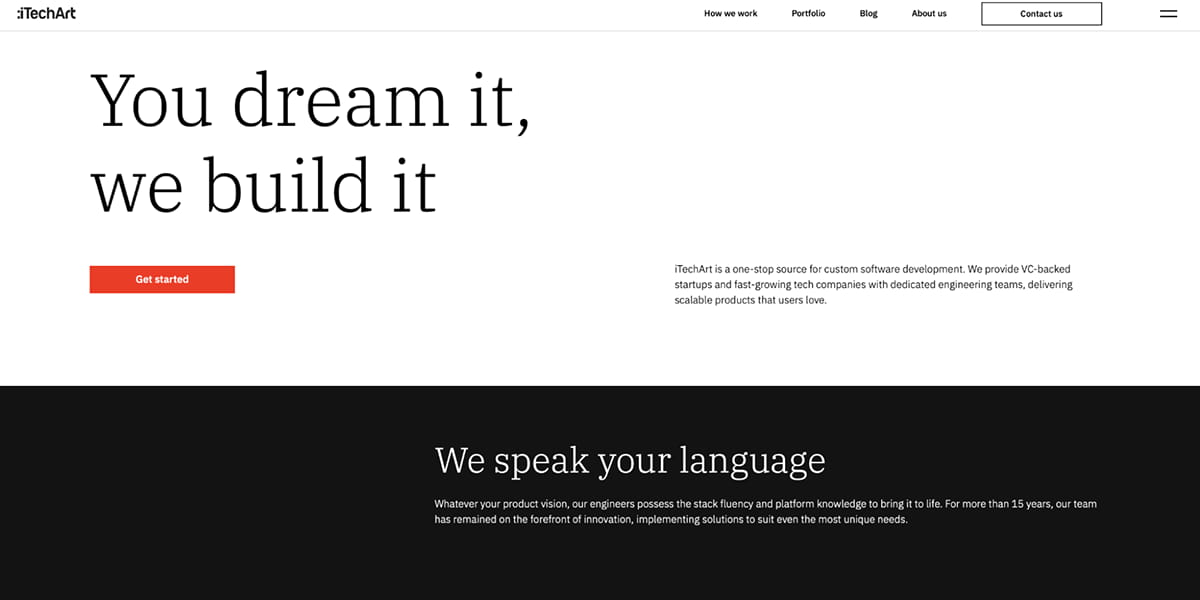 Location: UK, USA, Austria, Poland, Ukraine
Staff size: 1000 — 10,000
Pricing: $50 — $100/hr
Founded: 2007
Clients: Gain Capital, Rally, Barchart
Clutch Rating: 4.9
iTechArt Group uses the latest industry technologies to offer such services as custom software development, mobile and web application development, AR/VR development, cloud computing, AI-powered applications, blockchain-based applications.
Clients indicate high-quality codes for iOS and Android, as well as the ability to keep on pace throughout all sprints. The iTechArt Group communicates all changes and updates about progress during the process.
Technologies
Angular 7, Material SDK, .NET, ASP.NET MVC, Lightstreamer, SignalR, WebApi, ActiveMQ Artemis
Case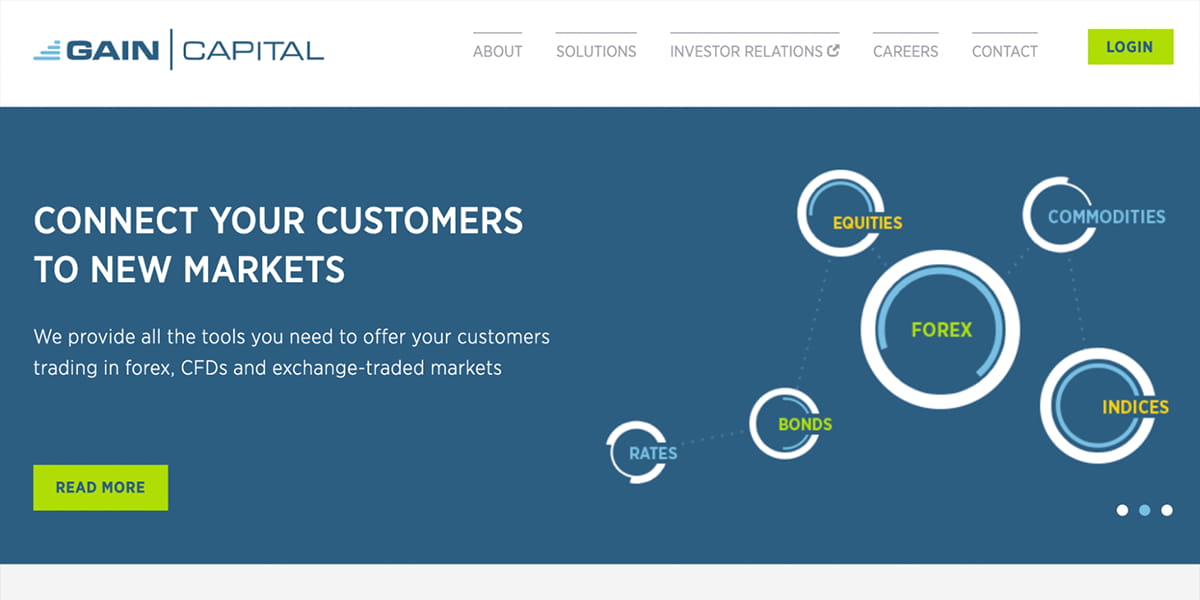 iTechArt improved the IT system for Gain Capital. iTechArt also enhanced flexibility to stay in touch with customers on demand. The company also built native iOS and Android applications for the Forex.com brand. Developers made and executed all crucial architecture and tool choices.
TatvaSoft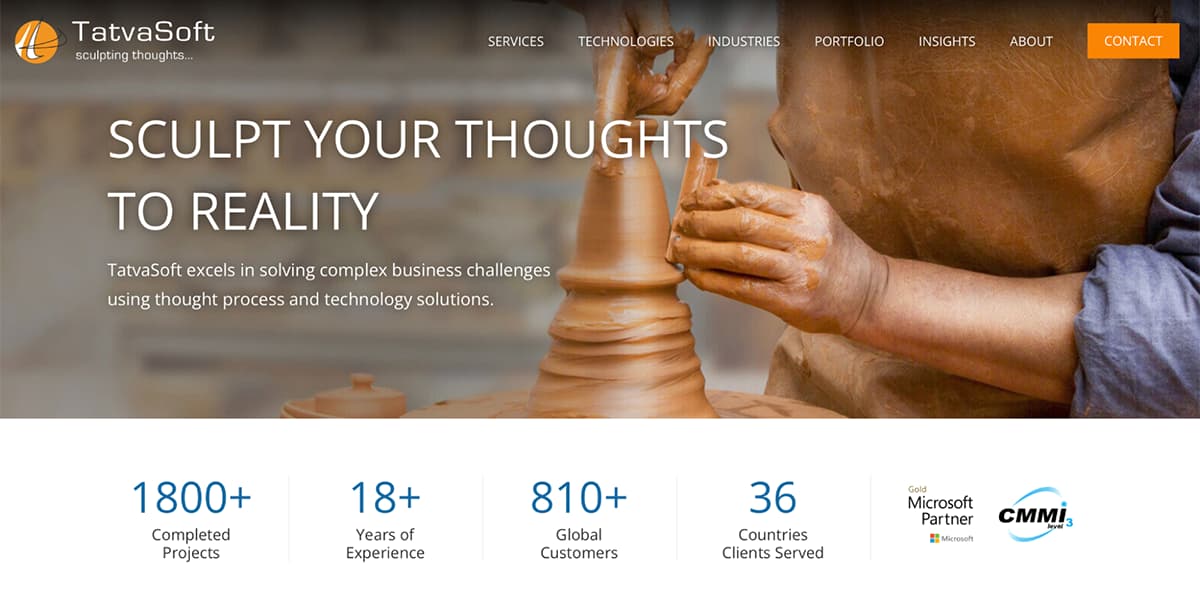 Location: US, UK, Canada, Australia, and India
Staff size: 250 — 1000
Pricing: <$25/hr
Founded: 2001
Clutch Rating: 4.9
TatvaSoft offers solutions for the fintech industry, including consumer finance, banking, and insurance. The company relies on Microsoft.Net, Kotlin, Typescript to provide competitive products in the market.
Technology
The company offers high-quality solutions, applying Microsoft .NET, Java, Node, PHP, Angular, React Mobile Apps and Ecommerce.
Case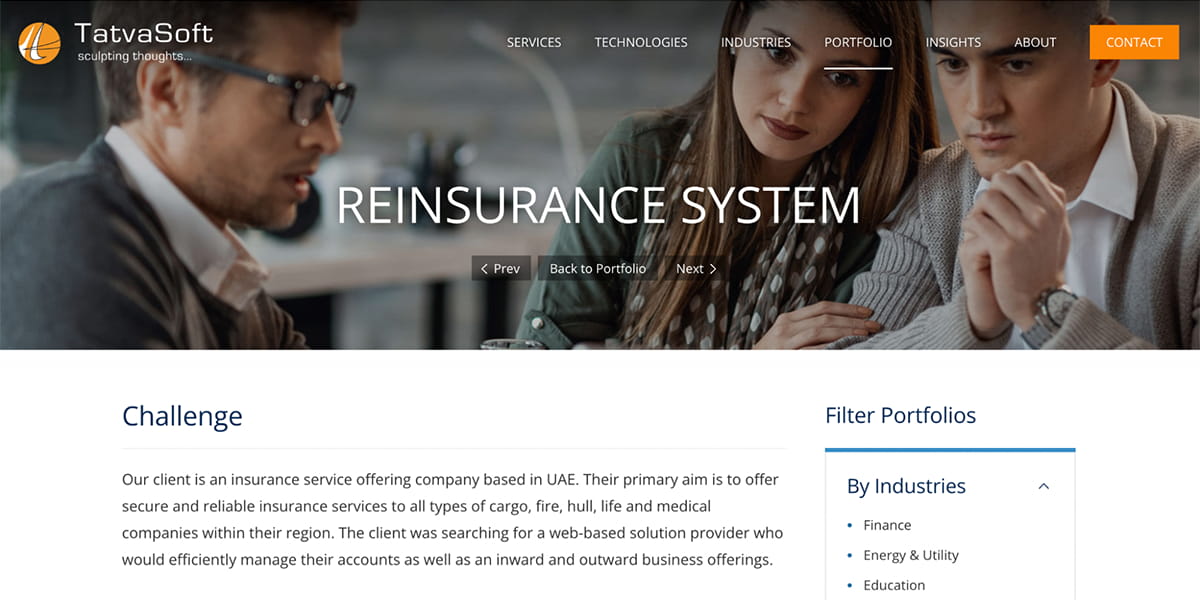 TatvaSoft had to develop a web-based application for an insurance company. The team offered a .NET-based web solution to provide better management of large scopes of data, claims, accounts, and various types of insurance.
Theodo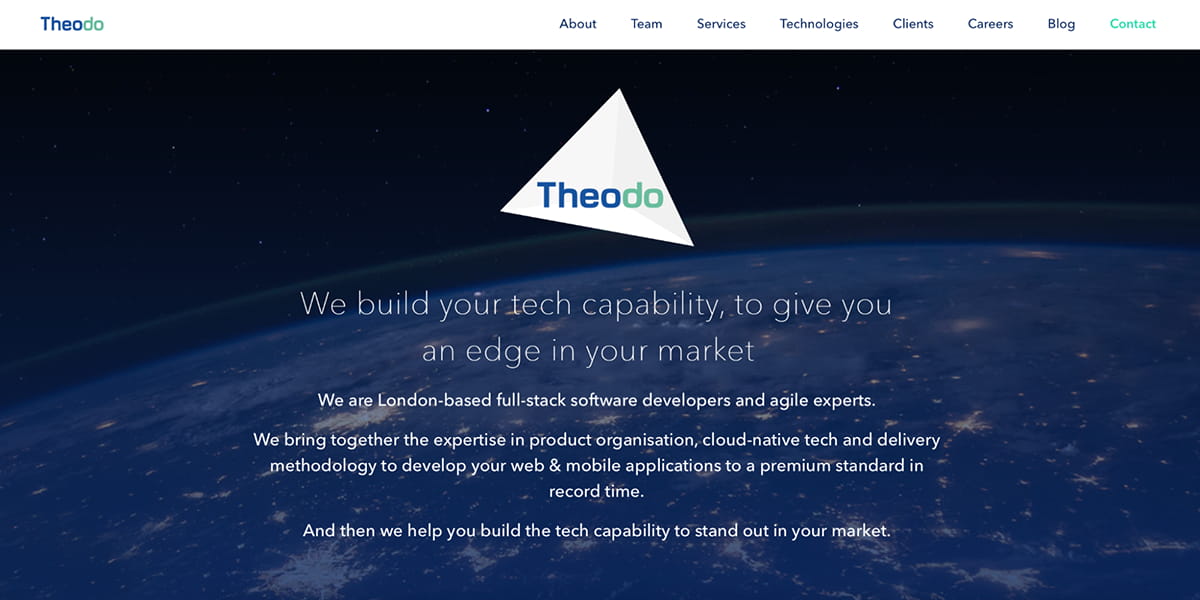 Pricing: n/a
Founded: 2009
Clients: BNP Paribas, Societe Generale, Cleo
Clutch Rating: 4.7
Theodo provides web, mobile and software services. The company implements innovative solutions like a car financing quote engine that Theodo has recently built from scratch. The team integrated a backend system, using AWS, JavaScript, and Python. This solution resulted in a significant increase in click-to-quote conversions.
Technology
React Native, Firebase, Fastlane, Testflight, Redux, Circleci, Branch.IO, Codepush.
Case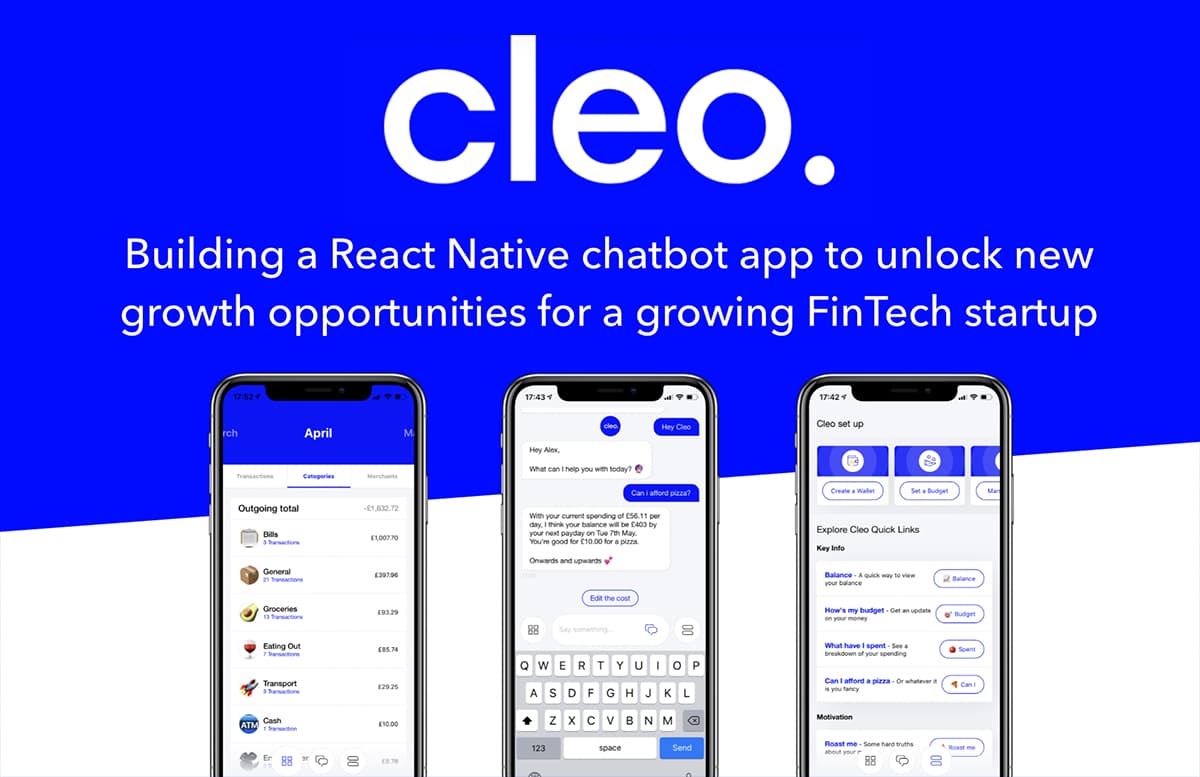 Theodo cooperated with Cleo and improved the current features of the app, as Cleo wanted to move away from the technical constraints of Facebook. Therefore, Theodo built a stand-alone mobile application that allowed Cleo to grow. As a result, the company increased the number of new users across the App Store and Play Store.
Tremend Software Consulting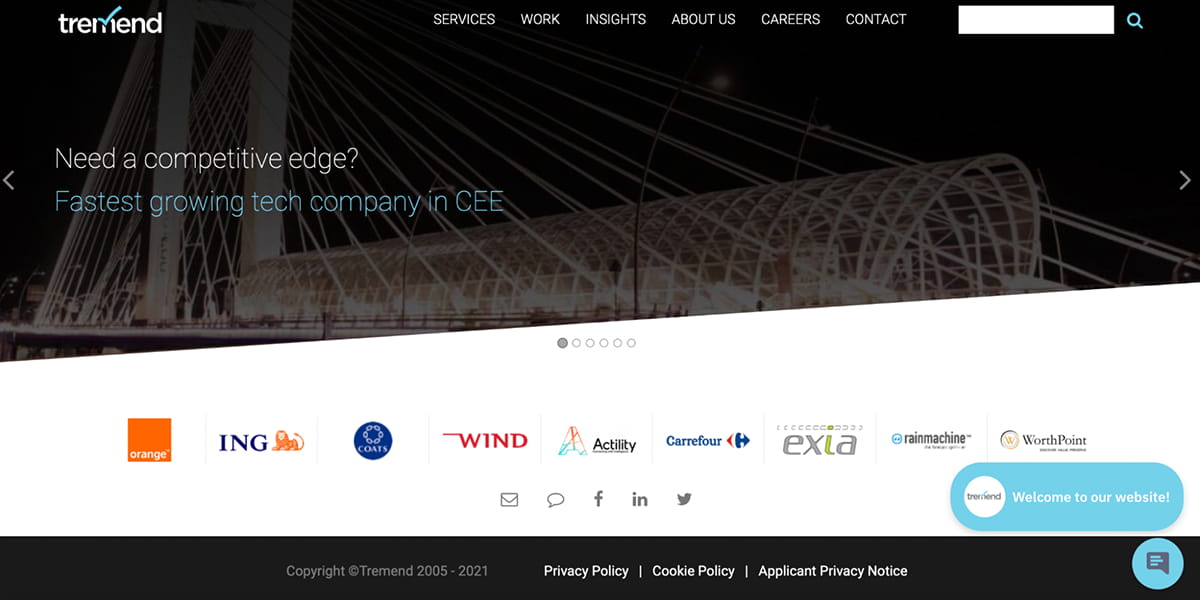 Location: UK, Romania, USA
Staff size: 200
Pricing: $25 — 50
Founded: 2005
Clients: ING, FirstBank, Raiffeisen Bank, Vodafone
Clutch Rating: 4.8
Tremend Software Consulting offers advanced software engineering solutions and integrates robust systems for companies around the globe. The company is client-oriented and stays in touch with clients at every stage of project development.
Technology
The team uses Scrum for the project and utilizes Jira, Slack, Github, and Trello for project management.
Case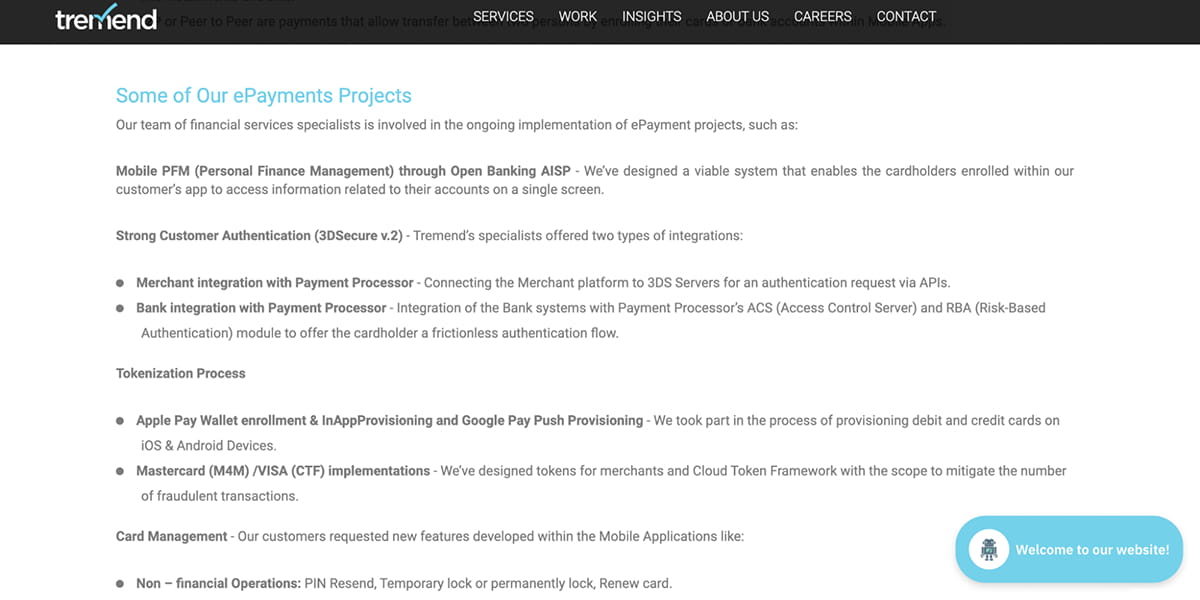 Tremend integrated Apple Pay Wallet enrollment, InAppProvisioning, and Google Pay Push Provisioning for fast online transactions. The client also requested new features developed within the Mobile Applications to resend PIN, renew a card, or suspend any account in case of any malicious actions. As a result, users' private data become better protected.
DCSL GuideSmith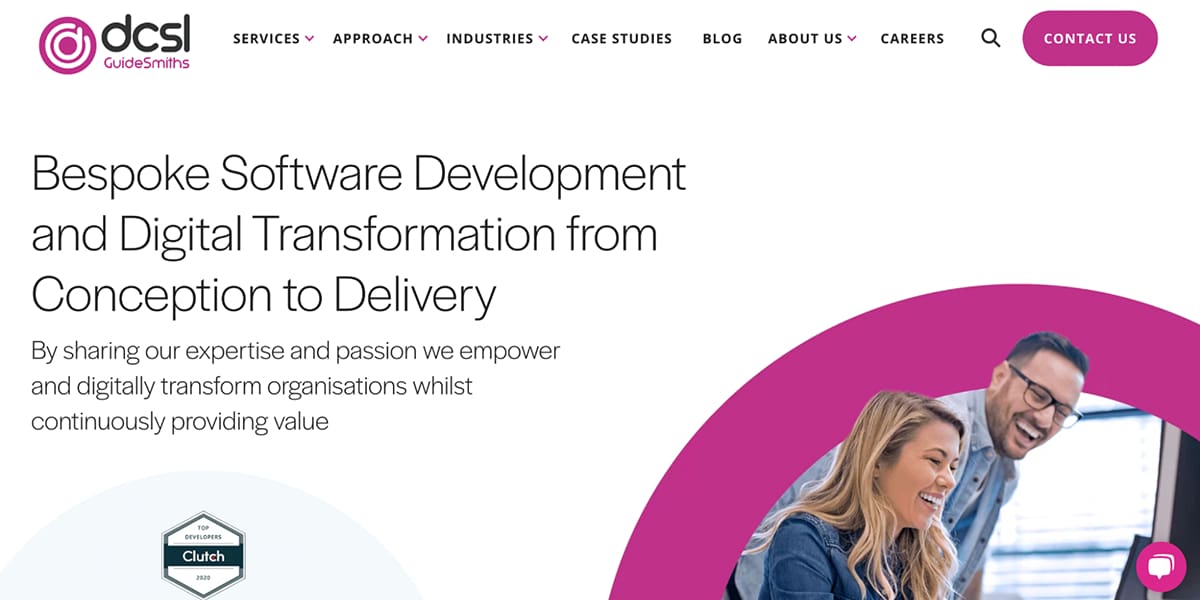 Location: UK, USA, Austria, Poland, Ukraine
Staff size: 1000 — 10,000
Pricing: $50 — $100/hr
Founded: 2007
Clients: Augustus Martin, Maxis GBN
Clutch Rating: 4.9
DCSL GuideSmith provides fintech software engineering and builds intuitive, cost-effective solutions. The team also offers faultless coding and smooth work of software.
Technology
ASP.Net, MVC, C#, HTML5, Kendo, UI, RESTful, API, SQL Server
Case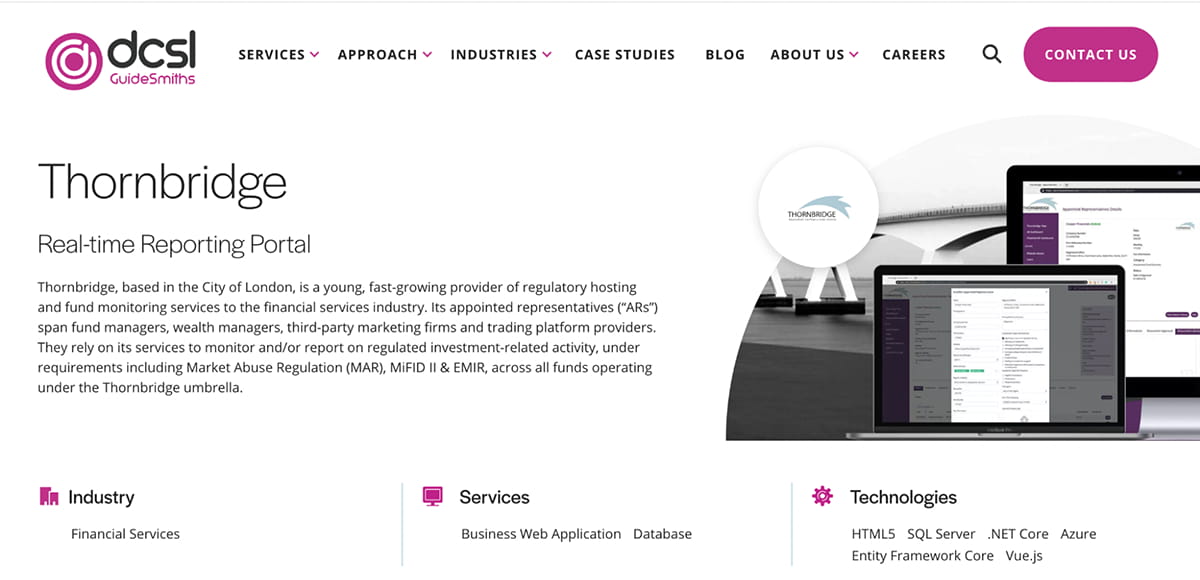 DCSL GuideSmiths developed a comprehensive AR portal system for Thornbridge from scratch. The company used ASP.NET Core, with SQL Server at the back end and unobtrusive JavaScript (uJS) at the front end. The portal is available across multiple devices so that users can complete different operations in a few clicks.
Related Article: How to Set Up Your Own Offshore Development Center in 2023
Questions to Ask a Specialized Fintech Dev Company to Succeed with the Project
In 2022, the financial market is expected to rise to 381 billion dollars. That also means the boom of virtual transactions. If companies look for a long run in the digital world, they need to integrate cutting-edge solutions and make their assets function smoothly.
What questions should be discussed before launching projects with fintech app development companies for your effective business operations and customer satisfaction?
#1 What advanced technologies do you use?
Cloud computing, data analytics, blockchain, and other new technologies have forced changes in the fintech industry. That's why tech firms need developers specializing in these fields. It depends on the company's capacity and resources whether they're in-house or outsource specialists.
However, before partnering with banking software development companies, clarify what technologies and approaches developers will use to fulfill your goals.
#2 What range of services does a fintech software company offer?
Start with discussing available services and then move to customized fintech solutions for your app or website. They may help you increase the number of loyal customers and provide current clientele with needed services.
#3 How can you scale up my business?
When partnering with the best financial software development companies, you can rely on their assistance and support. So make sure they will help you grow. Also find out tether they can tweak your software and tackle all possible problems with raised traffic, messaging, and the like.
#4 Do you ensure security and safety?
As financial firms and organizations deal with vast arrays of confidential information, including credit card data, social security numbers, and bank and investment account information, fintech dev companies have to develop a product with top-class protection and regulatory compliance. Fintech software development companies should offer cybersecurity risk management and mitigation. They also integrate AI and ML fraud detection systems to prevent malicious actions on the web.
After the overview of fintech development companies list and questions raised before cooperating with them, the main challenge is what points to consider when choosing a fintech software development company?
How To Choose The Right Partner for Software Development
Here are some tips on how to choose a suitable company for your business needs.
Check out the expertise and team's skill set
Make sure you work with qualified specialists who offer quality services. It's essential to work with a certified team of experts as they can suggest how to improve your product, release bug-free software, and ensure high user satisfaction with your product.
You can scrutinize the company's services and see what technologies they use (Ml, AI, big data, etc.). Also, make sure that the team has experts in the finance industry to build a relevant product.
As for developers, they should hold expertise in some of the most widely used fintech programming languages:
Python
Java
C++
VBA
SQL
Scala
R
Don't forget to look through the portfolio. You can find similar cases and figure out what challenges and results the company managed to obtain.
Ensure user data safe storage and use
Cybersecurity should be a cornerstone of your digital product. Do not neglect safety issues when developing fintech solutions. That's why your partner should be well aware of all possible harms and threats on the web.
Ask software development companies about their approaches to security problems and what solutions they offer to mitigate issues on the web.
Find out what regulations and protocols they follow when developing products.
Discuss pricing in advance
Of course, you can check out service charges on the software development company's website, but discuss the project pricing. Multiple factors will impact it.
Pay attention to the pricing based on hours, programmers' qualifications, or turnkey service. You can discuss these aspects before placing your order and then compare the best variants.
Read reviews
Start with the company's page and then move to the independent resources like Clutch, Goodfirms.
These resources will help you get a comprehensive picture of companies. You can assess their rating and find out what clients tell about their services.
Pay attention to the company capacity
Depending on your goal, you may need different specialists to be involved in your product. That's why you should check out in advance whether a company has all specialists: developers, testers, designers, finance experts, UI/ UX designers.
When you hire a dedicated team, you save plenty of time and effort. Otherwise, you'll need to work with multiple specialists from different agencies to finalize your project.
Ask about risk mitigation plan
Fintech software development also hides many risks and different roadblocks. So it's better to get ready for them beforehand.
Don't omit this tip, and make sure the software development company has a risk mitigation plan to avoid conflicts. For example, a developed product is delivered with regulatory compliance and desired quality, etc.
​​Look at the team's soft skills
In today's fast-changing world, soft skills are essential for every member. Every team member should be willing to discuss and negotiate different issues. Otherwise, you may get a final adverse result.
Pay attention to the team's flexibility, time management, problem-solving, and innovative thinking. Former clients might have already mentioned this information in their reviews. But also, you can ask the team directly about their vision of these factors.
One Last Thing
The primary advice is not to be afraid to hire a team of specialists who succeed in this niche and offer top-quality tech solutions, especially when you are aware of the top rating companies in the market.
Undoubtedly, finding the right partner who can implement the biggest fintech ideas is a real challenge. But it's still possible to do. You can use our list of leading financial app development companies based in the UK.
Or, you can always send your inquiry, and we will help you bring innovative and robust fintech solutions to life.
Have a look at what you can get, choosing SPD Technology services:
build applications for online banking, market data analytics, workflow automation, and other purposes;
develop and integrate secured payment systems according to PCI DSS and GDPR compliance;
introduce custom solutions like promotions, loyalty programs, and bonus cards;
create dynamic dashboards with supported report types for customers analytics and BI reporting; and
integrate AI-driven fraud detection systems.
Our team consists of certified specialists. We've all got our professionalism and expertise. But the most important — we want to share them and create bespoke successful products.
Ready to speed up your Software Development?
Explore the solutions we offer to see how we can assist you!
Schedule a Call