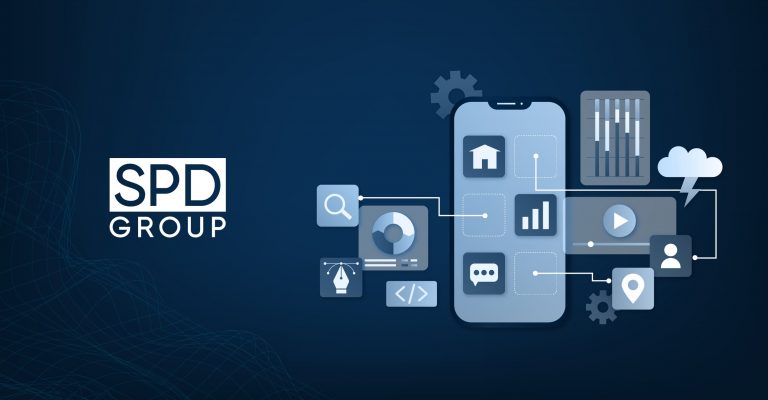 Main Thoughts
AI virtual assistants, chatbots, and RoboAdvisors help deal with the clutter of information on an insurance company's website, improve customer interactions, and help insurance startups grow.
Combining several modern technologies allows securing insurance companies' business processes and applications best.
Machine Learning facilitates Claim Management, speeds up claims' processing, and makes instant payouts possible in the industries where it is required.
Blockchain can both help establish trust and facilitate execution of claims.
Introduction
The boisterous events of the recent past have spurred hundreds of millions of people worldwide to seek greater financial security and have given Insurtech a substantial boost.
Simultaneously, the rapid rise of technology that's been taking place in parallel has made it even more difficult for insurers to land their next client: it is no longer enough to shape up an appealing and competitive insurance product to draw them in. Ease-of-use, seamless remote onboarding, and the ability to provide an omnichannel experience have come to the fore and frequently carry even more weight.
How not to wind up with a bunch of good insurance products no one pays attention to despite all their appeal? How not to miss on any of the tech advancements in insurance software development that can make these products a success?
This article will tell you about this.
Don't have time to read?
Book a free meeting with our experts to discover how we can help you.
Book a Meeting
Leveraging Modern Technologies for Enhanced Customer Experience
Artificial Intelligence (AI) and Machine Learning (ML) in Insurtech
Nowadays, not only in Insurtech, but also in virtually any industry the customer wants to feel important enough to really matter for their service provider's business. So much so, that a seamless customer experience is becoming the decisive factor in choosing a service provider.
However, Insurtech still does stand out from the pack: quite often, insurers deal with stressed or irritated customers, who are looking for more protection. They often deal with customers, who hate to be diverted to pay for something right away, or be reminded of the risks associated with their insurance. Here, it is critical that the service provider be able to allow their customer to achieve their objectives with a minimal number of clicks and via ia a channel of their preference. Furthermore, insurers must be able to adjust the numerous petty details on the fly to immediately create a personalized customer experience that will positively sway their customers' buy-in decision.
In the past couple of years, technology, and AI in particular, has made enough progress to offer insurance companies ample opportunity to completely redefine their customer experiences and indulge even the most demanding of their customers.
How?
Harnessing AI for Personalized Customer Interactions
First off, AI makes it possible to bump up the efficiency of your customer service by increasing its availability by dozens of times with the help of AI virtual assistants or chatbots.
These apps leverage the AI technology of Natural Language Processing (NLP) to take user commands from a virtually unlimited number of concurrent users and help these users navigate an Insurance website. Besides, they also help users perform various onboarding-related and other tasks on the site. As well as relieving the pressure on your customer service, this eliminates delays and mitigates the human factor. Moreover, it is relatively easy to make your chatbot or virtual assistants serve users in several other languages. This allows you to expand your market to those geographies, where these languages are spoken.
In addition to chatbots and virtual assistants, AI allows you to enhance your customer engagement, cross-sell, and upsell by employing AI Robo Advisors. These are more advanced applications that are based on sophisticated AI algorithms and instantly analyze a diverse host of factors (like the user's goals, home purchases, retirement and health data, previous visits to, and behavior on the site, and others) to offer the user a more fitting policy insurance plan, or to guide them through some other important choices. Incidentally, it should be added that it is AI Robo Advisors that are known for their ability to help quickly scale an Insurance startup – take a note of this if you are one.
Besides, AI virtual assistants, chatbots, and RoboAdvisors help solve one of the most significant problems that inhibit insurance companies' customer interactions and puts their customers off the most – the problem of prospects and customers becoming overwhelmed with the huge amount of info an insurance site contains.
Leveraging ML for Smarter Underwriting and Claim Processing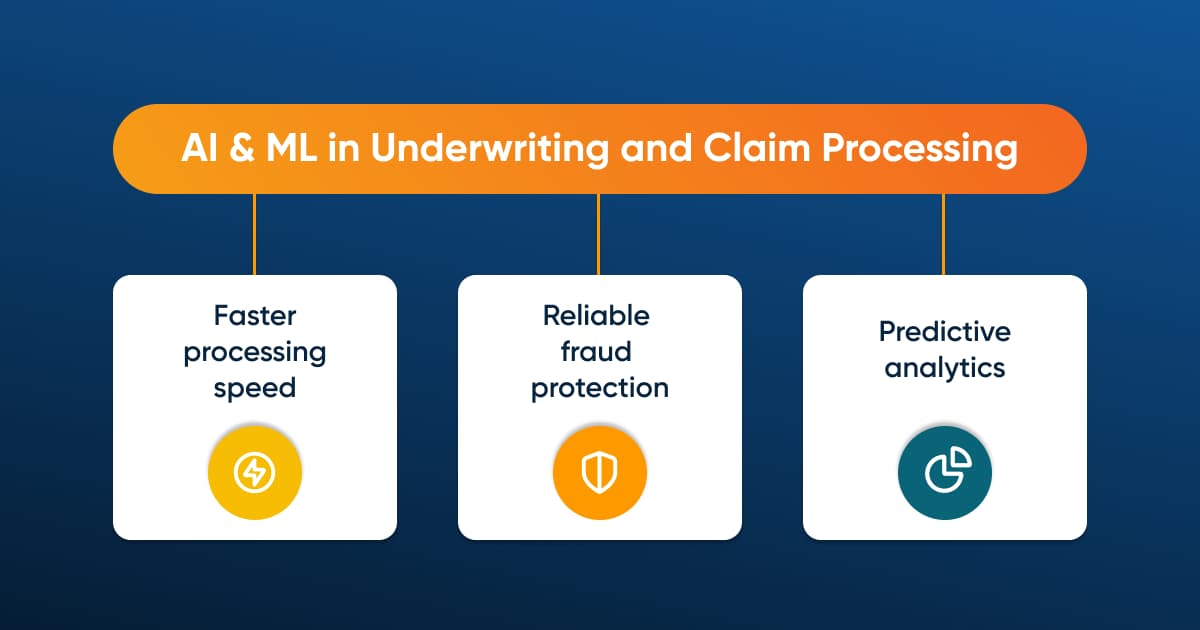 Underwriting and Claim Processing are two more areas of your insurance operation that will never be the same if you embrace AI.
First and foremost, AI allows you to digitize a much larger number of customer touch points. You can use a much larger amount of diverse data in the underwriting process. Moreover, this data can come from different sources in various formats. The data sources you can use range from all kinds of remote sensors to satellite data to digital wellness data. As a result, you can tailor your insurance coverage and pricing to the needs of each and every customer you have. Furthermore, AI allows one to use predictive analytics to make the related risk assessments a great deal more precise.
Insurers can use predictive analytics to predict the likelihood of fraud, damage, or policy cancellation. Besides, with predictive analytics, risk assessments take less time, as AI eliminates the need for lengthy and often convoluted due diligence.
Incorporating AI into your Underwriting and Claim Management processes equips you against the ever more sophisticated cyber threats that are difficult to counter and keep track of otherwise.
It's important to know that modern technologies enable multiple ways of detecting fraud, and one can create a potent mix of these approaches to secure your insurance business apps and processes more reliably. More specifically, you can employ Machine Learning to analyze your historical data. You can identify fraud patterns in this past data, and then use these patterns to detect fraud in your new data. With the help of Machine Learning, one can detect those irregularities in the inflow of claims that can signal a fraudulent attempt being committed. Also, one can use Natural Language Processing (NLP) to detect uncharacteristic language in the wording of insurance claims that can be a sign of fraud too.
In addition to this, there are several reliable technologies that allow you to verify the identity of the claimant. They include advanced Face Recognition, Identity Verification with Iris Recognition, Voice Recognition, and Biometrics with Fingerprint Scanning and Vein Recognition.
AI makes it possible to improve your customer interactions by implementing refill and validation functional capabilities. With these capabilities, your system will automatically fill in part of the customer application, and validate all completed applications against your acceptance criteria.
In Claim Management, AI and ML can help you cover a greater number of risks. Besides, Machine Learning also expedites the processing of insurance claims. With ML, you can instantly tell between low-risk and high-risk insurance claims, and then process them separately using different sets of rules. This approach facilitates and speeds up the processing.
Also, ML enables you to mitigate the human factor by taking any possible personal bias out of the process. Thus, you can preempt or avert any allegations of your decisions being influenced by the customer's race, age, or gender – a much bigger advantage than may seem at first glance. In those industries, where instant payouts matter (like, for instance, in civil aviation), ML gives you the means to dynamically calculate a plethora of risks to instantly make a pay-out in response to a valid customer claim.
Finally, AI has emerged as a total game-changer as far as car insurance is concerned. A frequently stressful and convoluted process, car insurance typically involves a number of actors. Simultaneously, some of the circumstances may remain obscure and bear additional investigation.
The AI technique of Computer Vision makes it easy to investigate car accidents by using video footage from the client's car. By the same token, AI can protect you and your clients against the kind of car fraud, where a fraudster flings himself on the car hood to fake a car accident.
Internet of Things (IoT) and Telematics in Insurance
As any kind of insurance business uses data to assess risk. Broadening the range of the available data creates new opportunities for insurers. In this sense, the advent of iOT, Telematics, and Connected Devices has given them ultimate insights into the lifestyles and habits of their clients, and has even provided grounds for the introduction of some new types of insurance.
In the realm of Home Insurance, you can use iOT smart devices (like for example, flood sensors, smoke detectors, and smart cameras) to alert the home owners in case of a flood, fire, or intrusion. These smart devices, just like video doorbells and leak detectors, can help dramatically cut the corresponding payouts. To encourage their Home Insurance clients to install these contraptions, insurers can offer them discounts.
Besides, Home Insurance can also benefit from сombining smart device-provided data with factors like the age of the home, its construction type, location, neighborhood data, climate data, and others. Using this kind of a combination allows home insurers to introduce new insurance models with tailored and more accurate premiums.
Telematics allows insurance businesses to do roughly the same while insuring vehicles. The underlying principle of Telematics insurance is that a client can achieve savings by being a more careful driver. An insurance provider can encourage careful driving by offering their clients a usage-based (pay-per-mile or pay-as-you-drive) insurance business model. Importantly, as one can collect Telematics data (like the use of a mobile device by the driver) in real time, Telematics can also help determine the exact circumstances in which a traffic accident has occurred.
The devices that enable collecting Telematics data include Bluetooth beacons, mobile apps, and port plug-in devices. However, different Telematics devices provide different Telematics data. Because of this, you need to use all of them if you want to pursue and provide full-blown Telematics insurance.
Finally, Connected devices allow insurers to collect clients' health data in real time, make accurate forecasting, and come up with tailored and more appealing offerings for these clients.
Data Analytics and Predictive Modeling for Customer Insights
Big data analytics is yet another major technology that one can use to switch up their customer interactions, and so in a big way.
You can collect data on your customers or visitors' digital experience to derive insights on their problems and interests, create corresponding tailored offers, and give your customer acquisition a boost. In fact, you can first analyze a diverse number of factors like demographics, population incomes, behavior patterns, climate, and more to determine those markets that are likely to have a greater demand for your insurance products more, and thus promise better customer engagement.
Similar to the way one can do this with customer acquisition, insurance businesses can use big data analytics to improve their customer retention. Advanced algorithms can detect different signs of customer dissatisfaction at a nascent stage. They enable insurers to respond to these signs in time with discounts or a modified pricing model.
Big data-empowered predictive modeling makes it possible to create multiple personalized product offerings. It allows you to encompass and utilize a much larger amount of diverse data for this purpose, like, for instance, customer buying habits and iOT data. The same data can be used to fine-tune one's existing insurance products and thus ensure better customer engagement too.
In addition to improving your loss ratio and raising your overall profitability, using big data predictive modeling makes your service offering a great deal more appealing to car owners, gym goers, diligent home owners – all those who make up the bulk of your customer base.
Blockchain Technology for Security and Trust
One of the fastest growing technologies in many industries, Blockchain is uniquely suited to solving several major pain points of insurance businesses.
Firstly, Blockchain establishes trust in the processing of insurance claims. The technology allows creating immutable instances of insurance policies and a tamper-proof modification log for them. This way Blockchain rules out any possible fraudulent attempts by either of the parties, which creates customer confidence that promotes customer onboarding.
Secondly, the Blockchain-provided smart contracts functionality enables quick and precise automatic execution of insurance claims. This way, Blockchain both eliminates any delays and relieves the workload on the insurance company's employees, who often get swamped with large numbers of claims.
However, there is one more, less spoken about, but still important advantage Blockchain brings. If you make your prospective customers aware of your use of Blockchain and its benefits (in particular, the secure exchange of all data), this will greatly facilitate the in-take of customer data and allow you to collect more of this information.
Automation and Robotic Process Automation (RPA) in Insurance
Just like any industry that deals with a vast number of retail customers, Insurance is full of relatively simple repetitive tasks. These repetitive tasks are a drain on insurance businesses' employees' energy and commitment to work. Sometimes, these tasks are also the reason for some costly errors.
Fortunately, the present-day state of Robotic Processes Automation (RPA) allows you to automate the bulk of these tasks across your different areas of operation.
In Claim Management, RPA apps can deliver your employees from the tedious and vastly consuming task of collecting data from various documents and moving this data elsewhere. With RPA, you can move any amount of diverse data en masse with just a couple of clicks.
The ability of RPA to quickly move data speeds up and facilitates those business processes that directly impact customer engagement and satisfaction. For example, it is possible to use a mix of ML and AI (NLP) to gather data and partially prefill customer questionnaires, which can significantly improve customer onboarding. Similar to this, it is possible to make Policy cancellation much easier for customers too.
Claim Management and Self-Service Portals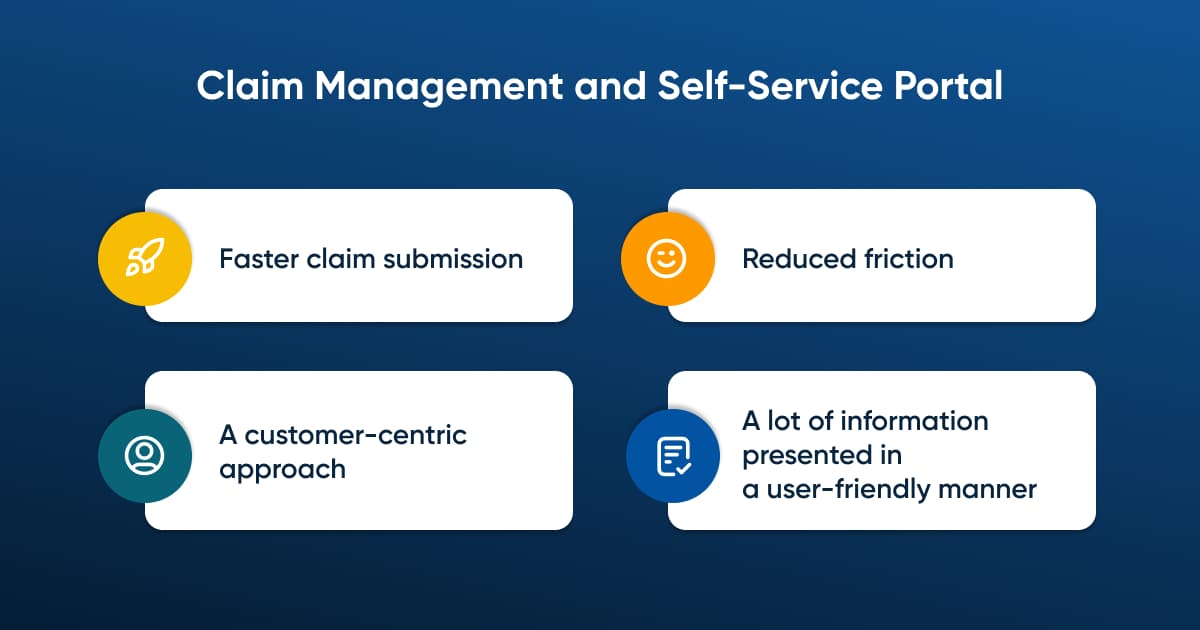 While trying to improve customer satisfaction and loyalty, very few insurers pay enough attention to Claim Management. Simultaneously, it is precisely your performance in this area that affects customer retention and loyalty the most: policyholders becoming frustrated over delays and friction is death on the longevity of an insurance company's customer base.
The conventional Claim Management practices many insurance companies are straddled with is a largely rigid and time-consuming process, responsible for numerous mistakes. The outcomes of this process frequently hinge on weary or stressed-out employees' personal judgment and appear to be subjective. However, it is fortunately possible to streamline one's Claim Management-related business processes by automating them completely, or enhancing the solution that is currently in place.
First of all, a modern Claim Management solution can provide omni-channel claim submission, including the possibility to quickly submit a claim on mobile or via a conversational chatbot. To make any further communication with the claimant more convenient for them, the solution can be set to automatically use the communication channel the claimant has used to file their claim.
Another improvement a Claim Management app can enable is the multi-faceted validation of submitted claims. It can automatically validate the claim-related information, including, for example, the claimant, the policy, and the related benefits. While the rest of the claim handling can too be performed automatically, you can set the app to signal the need for human involvement in those cases, when you consider this necessary.
One more thing that can improve Claim Management is the ability to promptly create new policies and modify existing ones in a centralized manner. This ability can expedite the claim processing, and thus positively impact the customer experience. It can be provided by a Policy Management module or app.
But the most game-changing of all the ways to improve one's Claim Management is the implementation of a Self-Service Customer portal. It allows clients 24/7 access to an insurance company's services, helps become familiar with the insurance products (especially, when fitted out with AI chatbots that allow customers to spend less time on this), and enables fast, and, if required, fully automated claim approval.
While implementing your Self-Service portal, it is important to bear in mind that its interface will also serve doubly as your main marketing page. This means that there shouldn't be any information clutter, plus the look and feel of the page should also be visually appealing enough.
Custom Software Development for Tailored Customer Solutions
Given the differences in insurance businesses' markets and target audiences, one can best automate or streamline their customer-impacting business processes using custom software applications. Here, it deals, first of all, with insurance CRMs that play a pivotal role in ensuring a high quality of an insurance company's customer interactions. Why are these systems so important?
A well-developed custom insurance CRM does what other automation is incapable of doing – it centralizes all your customer interactions (contact information, a history of the previous interactions with the customer, emails,and so on). This makes your interactions with customers prompt and always to the point. Next, such an insurance CRM can automate customer service tasks, ruling out any delays in responding to customer actions and requests.
Also, an insurance CRM makes it easy to control your insurance agents' timely interactions with customers.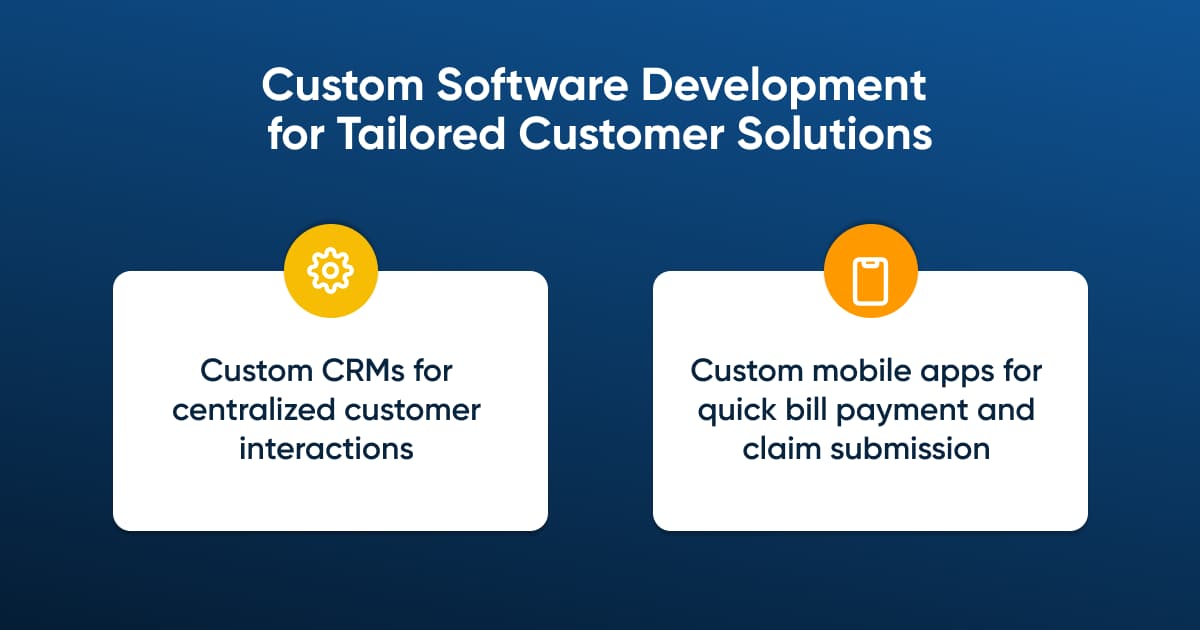 Lastly, insurance CRMs make it possible to collect feedback from a large number of customers to improve your service and show your customers that their opinion matters.
Another type of custom apps that greatly empowers policy holders and promotes customer satisfaction is custom mobile insurance applications.
With insurance mobile apps, policyholders can receive bill payment reminders and pay their bills instantly. They can quickly pay premiums and promptly look up the details of their policies in any situation. It becomes possible for policyholders to quickly start acting in any circumstances, including in the immediate aftermath of a car, property, or workout accident.
Additionally, it becomes much less of a hassle for you to obtain your customers' consent to alter their insurance policies when you need to do so.
Future Trends and Opportunities in Insurtech Customer Experience
Unlike one could expect, the massive current adoption of technology by insurance businesses only shows there are more opportunities for them to benefit from. Moreover, it looks like more opportunities are set to emerge in the future with the further rise of technology.
One of the leading roles is likely to be played by iOT, both due to the amount of valuable data it generates and the mammoth potential for scaling this technology has: the current adoption of iOT is just a fraction of the territory it could cover.
The iOT-provided data immensely improves insurers' risk assessment, price modeling, and overall efficiency. Besides, as part of iOT, Telematics has allowed insurers to introduce a new and extremely efficient business model – usage-based insurance. Insurtech software development companies will definitely continue to leverage this model in the future.
Machine Learning and AI will continue being used to automate a large number of routine tasks and to create personalized user experiences. The same can be said of Cloud Computing. Around 90% of insurers are believed to already be using the Cloud to some extent, and the trend will surely continue into the future.
Conclusion
The impact of modern technologies on the Insurance vertical can hardly be overestimated. One can say with confidence that those insurance businesses that will fall behind in adopting these technologies will only be able to survive in certain niches and in certain geographies that have for some reason been tardy in adopting innovation. Implementing the right mix of AI, ML, iOT, and Blockchain allows insurers to instantly answer most of their prospects' and customers' needs, leaving almost no chance to their less adroit competitors.
Those insurance businesses that have already embraced some of the disruptive technologies should now be looking into the adoption of iOT as their next step. They still probably have an opportunity to become early adopters and gain a competitive edge on their markets.
If you would like to know more about how modern technologies can automate or revamp your insurance company's customer interactions to allow you to earn more, you can contact us – our Insurance and AI development teams will be glad to answer this one.
Ready to speed up your Software Development?
Explore the solutions we offer to see how we can assist you!
Schedule a Call