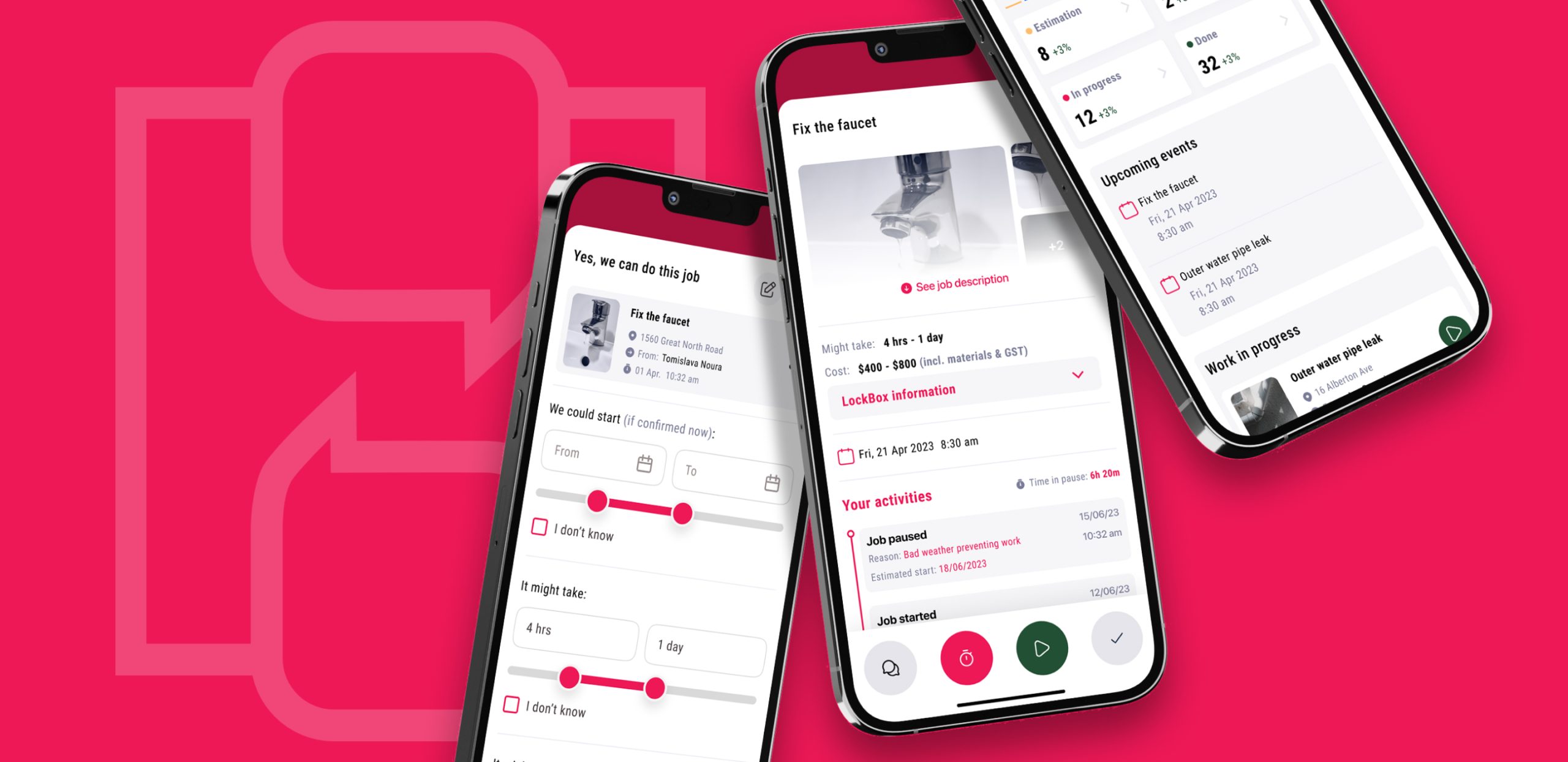 Highlights
Comprehensive UI/UX audit was conducted.
Interface redesign to embody a contemporary UI/UX, aligning seamlessly with the latest design principles and usability standards.
Product
An online marketplace designed to assist busy individuals and small businesses in outsourcing their plumbing tasks. Fostering transparent communication between homeowners and tradespeople, the platform enables homeowners to articulate their priorities while tradespeople provide accurate time and cost estimates.
Streamlining the process, Howdie offers a unified chat platform for all parties involved, ensuring a focused and efficient collaboration without unnecessary intermediaries.
Goals and objectives
UI/UX Audit:
Conduct a comprehensive UI/UX audit of existing mockups to identify areas for improvement and optimization.
Efficient UI/UX Design for Tradespeople:
Create a new UI/UX design specifically tailored for tradespeople and plumbers, ensuring they can derive value from the platform in less than 30 seconds.
Contactless Task Management Process:
Develop a contactless task management process to streamline user journeys, eliminating the need for phone calls during task execution.
Responsive Designs for Mobile and Desktop:
Design user interfaces for both mobile and desktop platforms, ensuring a seamless and user-friendly experience across various devices.
Project challenge
Communication Challenges with Tradespeople: addressing difficulties in communication with tradespeople, characterized by demanding schedules and inherent uncertainties in the process.
Seamless User Experience: providing a solution with no onboarding, no registration, and no training requirements. The user experience is meticulously crafted to ensure a seamless 'one-click' flow and enhance accessibility.
Solution
SPD Technology has enhanced the user experience, ensuring simplicity and comfort for all users. We've streamlined the onboarding process through the utilization of magic links and social logins, and eliminated the need to have extensive user data to start using the app.
The seamless chat feature of the solution facilitates effective communication among the process actors. The user experience caters to various user profiles, whether it be a company, freelancer, or regular user. Every incoming user request is given due attention, and all the requests are promptly addressed by the available professionals.
SPD Technology has significantly improved our client's user experience by prioritizing simplicity and comfort for all users. We achieved this by streamlining the onboarding process, leveraging magic links and social logins to eliminate the need for extensive user data when starting to use the app.
Our solution's seamless chat feature has played a pivotal role in fostering effective communication among all involved process actors. The user experience has been carefully crafted to cater to diverse user profiles, accommodating companies, freelancers, and regular users alike. Every incoming user request is given due attention, and all the requests are promptly addressed by the available professionals.
Our results
Modern and Comprehensive Design:
Our project team has successfully developed a new design that is modern, visually appealing, and comprehensive, elevating the overall aesthetic and functionality of the project.
Enhanced User Journey:
Significantly improved user experience by streamlining the primary user journey, now achievable in fewer than 10 clicks, ensuring overall efficiency and user satisfaction.