December 19, 2022
Project summary
The team at SPD Technology exceeds expectations. Their professional communication style makes them stand out. They're a skilled group of detail-oriented workers. Customers can expect a team that provides helpful suggestions to better their clients.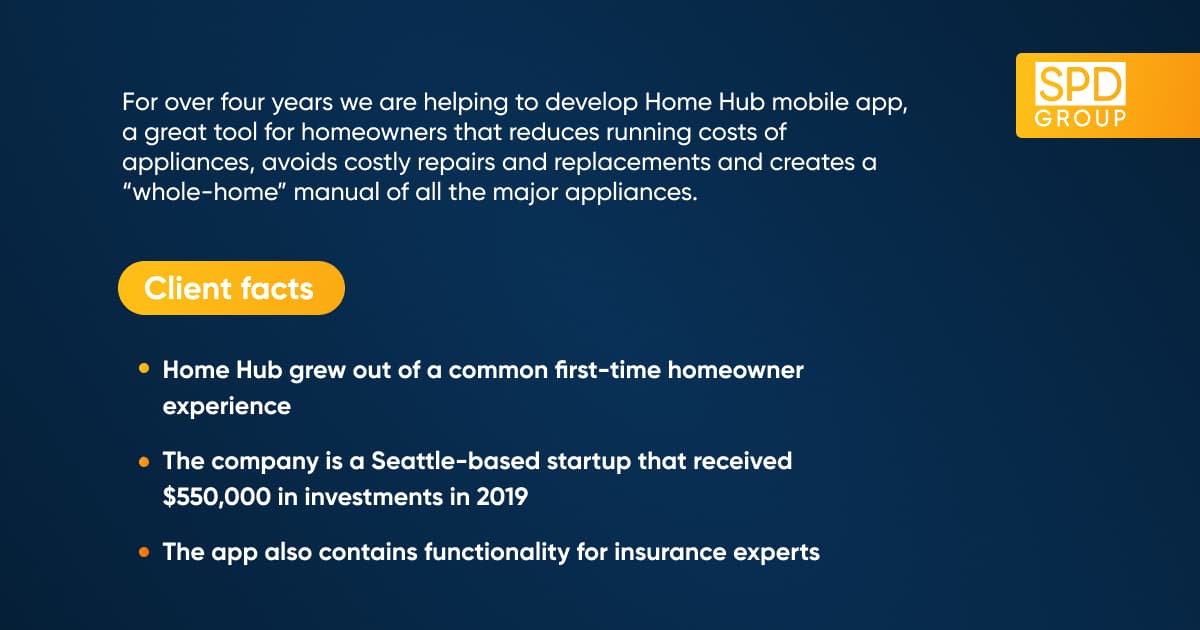 Scope of our service
Partnership details
Project length: August 2019 – Ongoing
Project category: Android App Development and iOS Development, Back-end Development
Project size: $150,000
Team size: 9 experts
Feedback was provided by the Founder & CEO of Home Hub, Steve Carver. Here are the key takeaways from the review:
Introduce your business and what you do there.
"I'm the CEO and founder of Home Hub, a mobile platform that helps homeowners better manage the preventative maintenance of their homes. This results in extending life to their appliances, reducing their energy costs, and avoiding other major losses."
What challenge were you trying to address with SPD Technology?
"I hired SPD Technology to pick up production development of the entire platform of Home Hub. Another firm built the MVP, but the other firm lacked some of the professionalism I was looking for."
What was the scope of their involvement?
"SPD Technology redeveloped the whole infrastructure, building the Android app and improving the iOS app. There were also some web development services to help with our backend database system.
Within the app, there's embedded camera functionality in the app that identifies the appliance and its model and serial numbers. After that, it gets married to our database of manuals and database of preventative maintenance suggestions. Our database system is built on a cloud-based platform."
What is the team composition?
"We have a project manager, two backend engineers, an iOS engineer, an Android engineer, two QA testers, a frontend web engineer, and a DevOps lead."
How did you come to work with SPD Technology?
"They came highly recommended by the CEO of the company I previously worked at. At that company, I had a few interactions with members of their team."
How much have you invested with them?
"We've invested $150,000."
What is the status of this engagement?
"We officially engaged with them in November 2019 but began conversations that August."
"Their communication is incredibly professional. We regularly discuss how we're building against our primary goal and projections. I always feel like SPD Technology is making more progress than I expect. They're efficient engineers."
How did SPD Technology perform from a project management standpoint?
"Our project manager Timur (Deputy General Manager) is very communicative and precise. He gets very detailed responses with data to back up his points and suggestions. Every week, we have meetings where we go over the progress they've made and if there were any delays or roadblocks. Their documentation is also great."
What did you find most impressive about them?
"The professionalism. Not only do they do great work, communicate really well, and document incredibly well, they have internal peer reviews to look over work across teams. This process validates their work. It's an incredibly professional organization opposed to others I've worked with."
Are there any areas they could improve?
"I can't come up with anything right now."
Do you have any advice for potential customers?
"Make sure that you're clear in what you want. The limiting factor working with SPD Technology is the client's own clarity within their communication."
Have more questions about custom software development services? Ask our experts!
Contact our experts to get a free consultation and time&budget estimate for your project.
Contact Us