December 12, 2022
Review summary
Within three months, SPD Technology delivered a brand new version of the client's app, allowing them to continue selling their product. Our team has shown expertise in new technologies, always delivering quality work. They're also very professional and collaborative, acting as part of the client's internal team.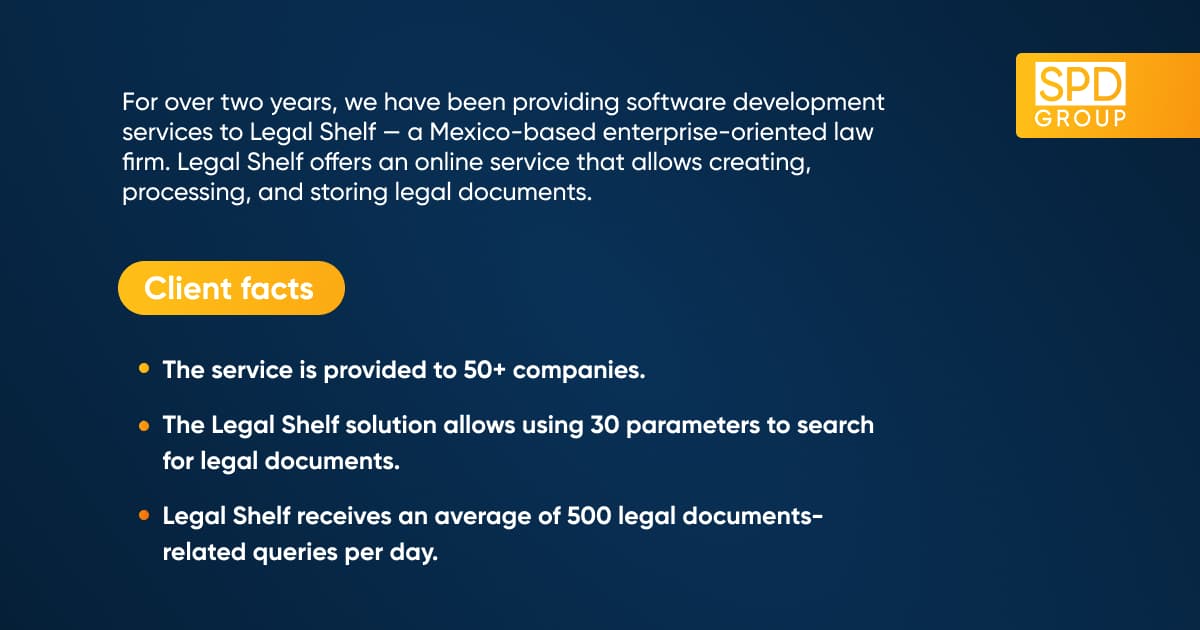 Scope of our service
Architecture design
Infrastructure build (AWS Lambda)
API design and engineering
FE development (React)
UI/UX design
Requirements development
Partnership details
Project length: November 2020–Ongoing
Project category: Mobile App Development, Web Development Services, Custom Software Development
Team size: 8 experts
Project size: $250,000+
Partnership results
It took SPD Technology 3 months to rebuild LegalTech's web-based app using a new technology stack, including React, Swift, AWS Lambda, and Spring.
18 enterprises with over 800,000 documents are now switching to the solution created by SPD Technology.
Feedback was provided by the CTO & CMO of Legal Shelf, Alex Samano. Here are the key takeaways from the review:
Introduce your business and what you do there.
"I'm the CTO and CMO of Legal Shelf, a startup company that provides legal document management services in Latin America."
What challenge were you trying to address with SPD Technology?
"We had an existing product built on PHP, which was old technology, so we needed a development team to rebuild it on a newer technology stack."
What was the scope of their involvement?
"We needed to approach this project on a fixed-fee model to have predictability on the budget. Thus, SPD Technology first assessed the project, which included reviewing the existing application's functionality and building all the user stories covered in it.
During this process, SPD Technology brought a designer, who helped the analyst create an inventory of all the other user stories that we would need to cover with the new application. They also built the new wireframes necessary and estimated the effort that would be required to deliver each of those user stories.
Once we had the estimated overall cost of the project, we prioritized the tasks and planned the release schedule. There was one new piece of functionality that we prioritized, so SPD Technology first worked on it. Then, they engaged a full development team, including frontend developers, backend developers, and infrastructure engineers, to build the system.
SPD Technology built the product in three months based on that fixed budget. Since then, we've kept a small portion of their development team working with us on an ongoing basis.
For the frontend, we're using React and React Native, and we're hosting everything on AWS Lambda to have an on-demand infrastructure. Additionally, the middleware is built on Spring. This app is web-based, so we've built its frontend as a progressive web app to make it work on all devices and platforms. However, SPD Technology has also helped us build an iOS app on Swift because Apple devices aren't very friendly with progressive web apps.
The product is essentially a digital legal document library. It offers digital signatures, a repository, a sophisticated search engine, and metadata management capabilities. Additionally, it includes reporting features around the usage and content of documents.
The digital signature functionality was built specifically for Latin America — that is its main feature. Here, we can't sign digital documents like they do in the US. There's a sanctioned, advanced process involved in which the government participates. Thus, we integrated this system with that governmental infrastructure to make it work."
What is the team composition?
"SPD Technology's team has included a project manager, an analyst who acts as product manager to gather requirements, and some designers. Additionally, we've worked with a development team that has included an iOS developer, up to three React and React Native frontend developers, a lead architect, and up to four backend developers. As we're currently in maintenance mode, SPD Technology's core team includes the architect, the analyst, the project manager, a frontend developer, and a backend developer."
How did you come to work with SPD Technology?
"I've known SPD Technology for a while, so this isn't my first project with them. Originally, I was introduced to them through the CTO of the company I worked with back in 2011. Since then, they've been my favorite development firm to work with.
When Legal Shelf launched, they had used another development firm to build the product. Later, I got a call from them when they tried to get the new functionality built because they had a lot of issues doing so, and they were trying to move the application away from PHP. Knowing the urgency of this project and having known SPD Technology for some time, I just brought them to the table to get the project done."
How much have you invested with them?
"We've spent over $250,000 on this project."
What is the status of this engagement?
"I've worked with SPD Technology on various projects since 2011, and our engagement is ongoing."
"Within three months of working with SPD Technology, we had a brand new version of our product with the new functionality we needed, so we were able to start selling it. We've measured the success of their work with QA and regression testing, and they've always delivered quality work.
Overall, they're very good with these new technologies. Not a lot of people have implemented AWS Lambda, but SPD Technology's execution on it has been flawless."
How did SPD Technology perform from a project management standpoint?
"SPD Technology has always delivered on time, even when we've had to push the deadlines. We use Shortcut as our project management and ticket management platform, and we use GitHub for the repository. Additionally, we communicate via Slack and Google Meet almost daily."
What did you find most impressive about them?
"SPD Technology's commitment to projects is impressive; we've never felt like they're part of a different company. For example, they had team members based in Ukraine who had to flee due to the Russian Invasion. Despite having some of those team members assigned to our project, SPD Technology hasn't missed a single deadline since the invasion started."
Are there any areas they could improve?
"I don't think that SPD Technology could improve on anything. On one of my past projects with them, I wished that we had a stronger analyst. However, I can't say that anymore because they've brought excellent resources to the table for this project for very reasonable rates. Nowadays, I can only wish that they weren't in the middle of an invasion."
Have more questions about custom software development services? Ask our experts!
Contact our experts to get a free consultation and time&budget estimate for your project.
Contact Us