October 26, 2022
Project summary
The company was pleased with SPD Technology, which delivered an AI tool that worked as they intended. They also managed the project with proactiveness. They were always on time and available to communicate with the stakeholders. They hit all project milestones, resulting in a successful engagement.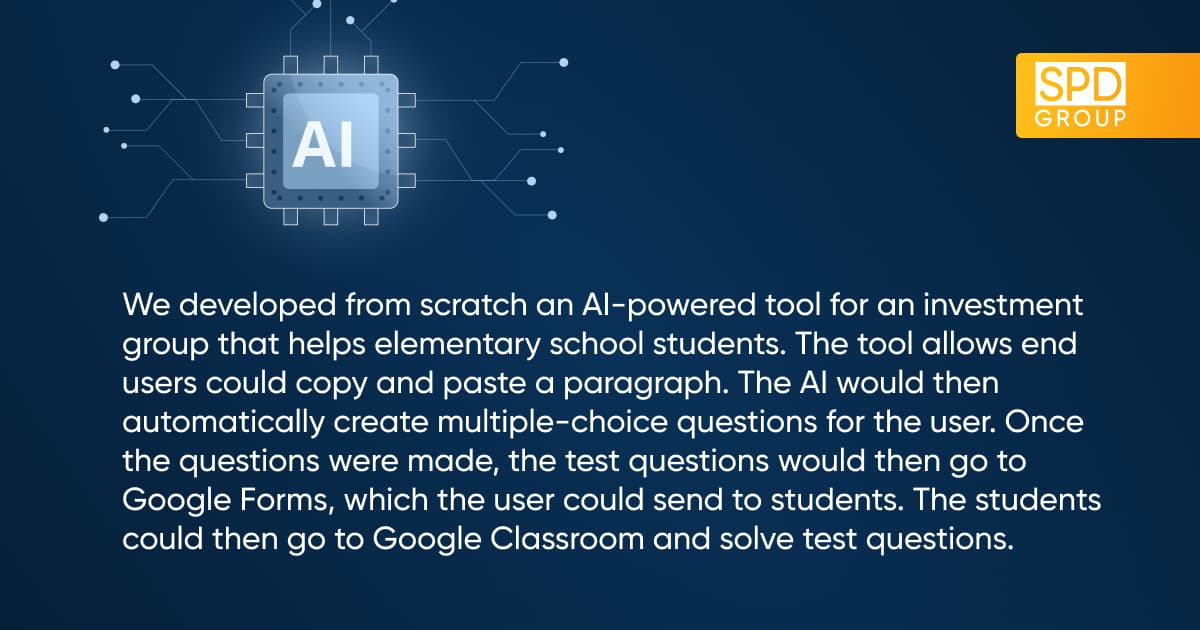 Scope of our service
Partnership details
Project length: July 2021–October 2021
Project category: Development
Feedback was provided by the Senior Director of IT Investment Group. Here are the key takeaways from the review:
Introduce your business and what you do there.
"I'm the senior director of IT for an investment group."
What challenge were you trying to address with SPD Technology?
"We needed SPD Technology's help with AI tool development."
What was the scope of their involvement?
"SPD Technology helped us develop an AI tool for elementary school students. Using this tool, end users could copy and paste a paragraph that could be normal, intermediate, or advanced level. The AI would then automatically create multiple choice questions for the user. It would also let users delete or change questions.
Once the questions were made, the user should click submit. The test questions would then go to Google Forms, which the user could send to students. The students could then go to Google Classroom and solve test questions.
Our goal for this tool was to spend less time creating questions while checking the student's general knowledge level. We could simply select a paragraph and create questions in a matter of minutes."
What is the team composition?
"I worked with a project manager."
How did you come to work with SPD Technology?
"I found SPD Technology through a freelancing website. One of my friends also recommended them, saying they were good developers of AI tools. Our team had asked other companies, but those firms refused to do the project. As a result, we hired SPD Technology."
How much have you invested with them?
"We spent between $3,000–$4,000."
What is the status of this engagement?
"We started working together in July–October 2021."
"We were happy with SPD Technology's work. My partner and I were fully satisfied with their outputs, and the tool worked as intended. I'd hire them again if we had another project that suited their abilities."
How did SPD Technology perform from a project management standpoint?
"SPD Technology's project management was perfect. Their manager was proactive, and she was always on time. Whenever we wanted to have a video call, she was available. She also explained everything well. To communicate, we used Upwork."
What did you find most impressive about them?
"They did a good job. If we forgot to ask anything, the project manager would remember and would explain everything to us. They also never missed a milestone."
Are there any areas they could improve?
"No, there weren't any. Everything they did was good."
Do you have any advice for potential customers?
"I recommend working with SPD Technology; I wouldn't think twice about it."
Have more questions about custom software development services? Ask our experts!
Contact our experts to get a free consultation and time&budget estimate for your project.
Contact Us